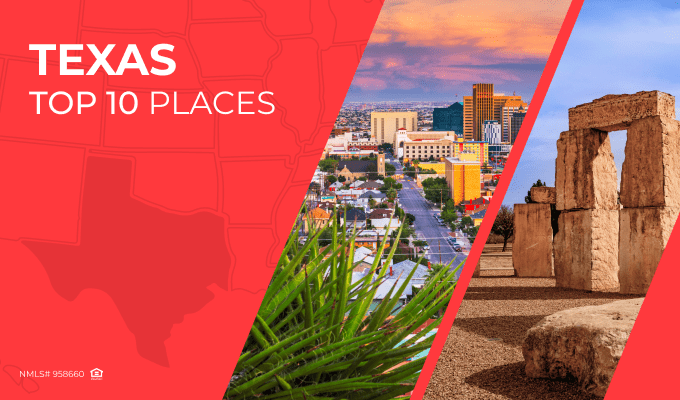 They say everything is bigger in Texas and for good reason. As the second largest state in the country, it offers incredible diversity – from border towns near Mexico to big sprawling urban cities. From cattle ranches and farms to densely forested areas. From the Gulf of Mexico beaches to rugged hills and vast prairies. Texas has something for everyone!
While the cost of living in Texas can be high in some areas, there are plenty of towns and cities across the state that offer an affordable alternative. So, if your borrowers are looking to relocate to the Lone Star State, then check out our list below of the 10 Most Affordable Places to Live in Texas.
10. Odessa
Located in West Texas, Odessa is a football-loving community with a thriving cowboy culture to boot. But like most things in Texas, it's more than that. It also features a replica of Stonehenge and a recreation of Shakespeare's Globe Theater. With a cost of living that is 6% lower than the Texas average and 12% lower than the rest of the country, Odessa should be on your client's list.
9. Breckenridge
Breckenridge is a small town in North Central Texas that has abundant employment and educational opportunities, making it an excellent choice for families. Perfectly situated between three scenic lakes, many residents also enjoy hunting and fishing. Boasting a cost of living that's 25% below the national average, Breckenridge just might be your borrower's new Texas home.
8. Pecos
Known as the birthplace of the very first rodeo, Pecos is a small border town that has a reputation for friendly residents. Bordered by a desert and a river, just south of New Mexico, Pecos also features public art projects, western museums, and scenic hiking trails. Housing is particularly affordable in Pecos, with the average rent coming in at just $550 and the median home value at $54,200.
7. Lewisville
Known as a commuter's paradise given its proximity to the Dallas-Fort Worth area, Lewisville is surrounded by lush public parks and the spectacular Lewisville Lake. It boasts mild weather, a vibrant downtown, and a thriving restaurant scene. The cost of living in Lewisville is on par with the average costs for Texas but given its location and amenities, it's a bargain worth noting.
6. Brownsville
Located at the southernmost tip of Texas along the border of Mexico, Brownsville is the largest city in the Rio Grande Valley. Due to its proximity to Mexico, it celebrates many Mexican traditions and heritage, along with its delicious cuisine. Brownsville also features galleries, museums, and wildlife reserves. The cost of living in Brownsville is 19% lower than the Texas average, making it an attractive and affordable destination.
5. Frisco
Frisco is a Dallas suburb and is known for its professional sports franchises – baseball's Texas Rangers and the soccer team, FC Dallas. Rich in employment opportunities, Frisco also has abundant shopping and dining outlets. Given its proximity to Dallas, the cost of living in Frisco is a bit more expensive than in some other areas but housing and property values are still measurably affordable here.
4. Pearland
A fast-growing suburb of Houston, Pearland is a great choice foranyone considering a move to Texas. It is brimming with acres of natural parks, miles of hiking trails, and multiple golf courses, offering an outdoor lifestyle that few cities can match. It also has sophisticated shopping areas and a thriving dining scene. Housing prices are somewhat higher here but so are average incomes, making it an affordable place to consider.
3. Galveston
Located just two hours south of Houston along the Gulf of Mexico, Galveston is primarily a resort town, but many people do live here year-round. Besides the usual beach activities, Galveston features Moody Gardens and the historic Pleasure Pier. Also, the cost of living in Galveston is 9.1% lower than the national average and the median home price is well below the national average.
2. Cedar Park
Frequently cited as being one of the best places to raise a family in Texas, Cedar Park also features quality schools, desirable neighborhoods, and great employment opportunities. Located just 20 miles from Austin, Cedar Park sits in the beautiful Texas Hill Country. The median home price in Cedar Park is above the state average but so are its incomes, making it a worthy contender.
1. El Paso
Coming in at #1 on our list of affordable places, El Paso is one of the largest cities in Texas. Located along the Texas, New Mexico, and Mexico borders, El Paso has almost everything for people to enjoy – from Broadway shows to rugged mountains, as well as a zoo, museums, and a vibrant local arts scene. It also has many beautiful parks, campgrounds, and water sports. Housing costs in El Paso are well below national and state averages, making it unusually affordable for a city of its size.
Thank you, you're successfully subscribed!
Thank you, you're successfully subscribed!