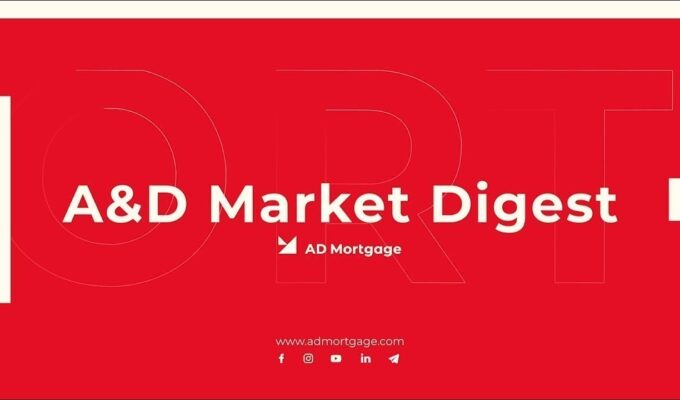 Alex Suslov, Head of Capital Markets, and Billy Abrams, President/CEO of ADM Securities, discuss recent and upcoming trends happening in the capital markets and their impact on the Non-QM market. Check out their discussion.
 MARKET NEWS
Bloomberg

—

Mortgage Rates in US Jump to 5.89%, Highest Level Since 2008

 "Mortgage rates rose again as markets continue to manage the prospect of more aggressive monetary policy to combat elevated inflation," Sam Khater, Freddie Mac's chief economist, said in the statement. Not only are mortgage rates rising, but the dispersion of rates also has increased, meaning that borrowers can benefit from shopping around for a better rate."
CNBC

—

Confused about the housing market? Here's what's happening now – and what could happen next

.

"The major factors behind the topsy-turvy housing market are mortgage rates and high prices along with low supply. Home prices are finally starting to cool off. They declined 0.77% from June to July, the first monthly fall in nearly three years, according to Black Knight, a mortgage technology and data provider. While the drop may seem small, it is the largest single-month decline in prices since January 2011. It is also the second-worst July performance dating back to 1991, behind the 0.9% decline in July 2010, during the Great Recession. Still, that drop in prices will do very little to improve the affordability crisis brought on by rising mortgage rates. Given the large role affordability challenges appear to be playing in shifting housing market dynamics, the recent pullback in home prices is likely to continue."
 UPCOMING WEBINAR
NOTE:  A&D Mortgage will be live streaming webinars on our Youtube, LinkedIn and Facebook pages, so keep an eye on those pages for the announced links and be sure to set a reminder for yourself!
Making a BIG Impact: How to Qualify for Jumbo and Prime Jumbo Loans
🗓️ Tuesday, September 13, 2022
🕐 1 PM EST
With rising and record-setting home prices in many areas, borrowers are needing loans with higher loan limits. Learn why A&D's Jumbo and Prime Jumbo loans can help you win more business in 2022.
We're going LIVE here:
FEATURED TRADESHOWS
California Mortgage Expo – LA North
September 13, 2022
Pasadena, CA – Hilton Pasadena
https://www.originatorconnectnetwork.com/events/california-mortgage-expo-pasadena#Register
AZAMP 2002 Annual Expo
September 14-15, 2022
Scottsdale, AZ – We-Ko-Pa Resort and Casino
https://azamp.org/event-4820770
Thank you, you're successfully subscribed!
Thank you, you're successfully subscribed!