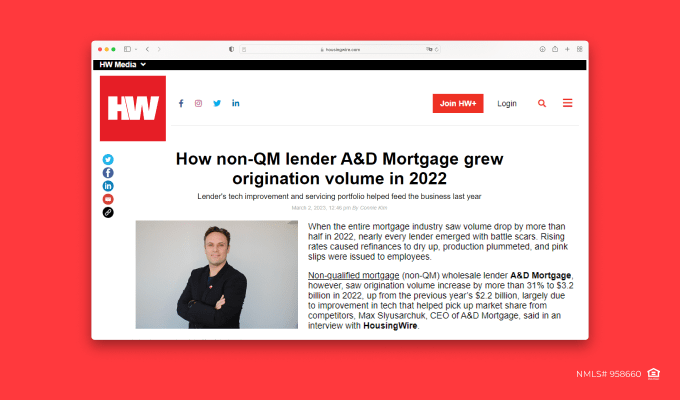 Check out the latest Housing Wire profile on A&D Mortgage's success in 2022 and plans for continued growth. Great interview with CEO and Founder Max Slyusarchuk!
A&D Mortgage has experienced immense success in 2022, reaching new heights of origination volume. Our story was recently featured in Housing Wire magazine, which outlined our past and present accomplishments and detailed our plans for continued growth. Our hardworking team and superior processes have enabled us to facilitate smooth transactions with both borrowers and investors alike, paving the way for future success.
We look forward to leveraging the expertise and resources amassed over the past few years to ensure continued market penetration through 2023. A&D Mortgage is steadily carving out a niche in the non-QM lending space with our renowned customer service and ever-evolving strategies for long-term prosperity.
Key Points:
A&D Mortgage, a non-QM wholesale lender, saw its origination volume increase by more than 31% to $3.2 billion in 2022, up from the previous year's $2.2 billion.
The company shifted from using third-party mortgage tech company software systems to developing its proprietary loan origination software, servicing software, pricing engine and customer relationship management system last year.
A&D is also in the final stages of its non-QM automated underwriting system and securitized seven deals in 2022.
The lender improved eligibility on all its non-QM programs and offered a 0.25 bps lender credit towards closing costs for purchase loans in certain states until March 15th 2023.
About 50% of the lender's sales came from existing homeowners, 40% from investors and 10% from first-time buyers with bank statement and DSCR loans accounting for 40% and 30% of total volume respectively.
As a mortgage broker, your clients rely on your expertise to find them the best deals. Our Quick Pricer tool can be an invaluable asset in your quest to secure the most advantageous mortgage rates. Be sure to explore our Programs section for additional resources tailored to your needs. If you have specific scenarios in mind, don't hesitate to request them; we're here to assist you. And if you're interested in joining forces to provide even more value to your clients, consider becoming a partner with us. Together, we can empower individuals and families to achieve their dreams of homeownership.
Thank you, you're successfully subscribed!
Thank you, you're successfully subscribed!