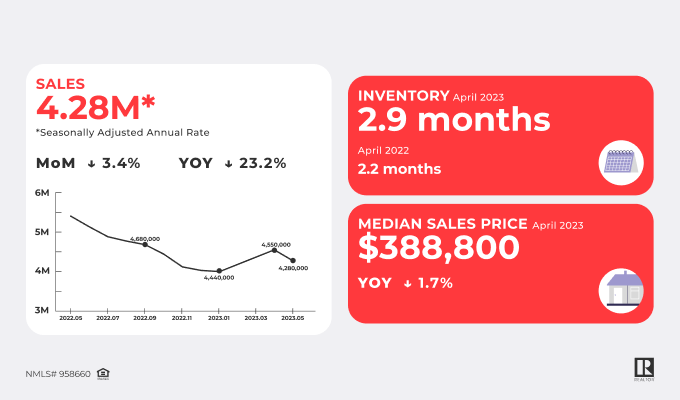 We wanted to provide you with a concise update on the latest housing market trends to keep you informed and help you navigate the evolving landscape. Here are the key highlights from the recent report by the National Association of REALTORS®:
Existing-home sales: In April, there was a decrease in existing-home sales, both on a monthly and yearly basis, across all major U.S. regions.
Housing inventory: Total housing inventory increased by 7.2% from March, with 1.04 million units available. The unsold inventory represents a 2.9-month supply at the current sales pace.
Median home prices: The median existing-home price for all housing types declined by 1.7% compared to April 2022. While prices rose in the Northeast and Midwest, there was a retreat in the South and West.
Days on the market: Properties typically spent an average of 22 days on the market in April, a decrease from March but higher than April 2022.
First-time buyers: First-time buyers accounted for 29% of sales in April, showing a slight increase compared to both March 2023 and April 2022.
Mortgage rates: The 30-year fixed-rate mortgage averaged 6.35% as of May 11, down from the previous week but higher than the rate observed one year ago.
Keeping an eye on these trends will be crucial for offering valuable insights and guidance to your clients. Stay informed and be ready to adapt your strategies as needed to succeed in the dynamic real estate market.
Thank you, you're successfully subscribed!
Thank you, you're successfully subscribed!