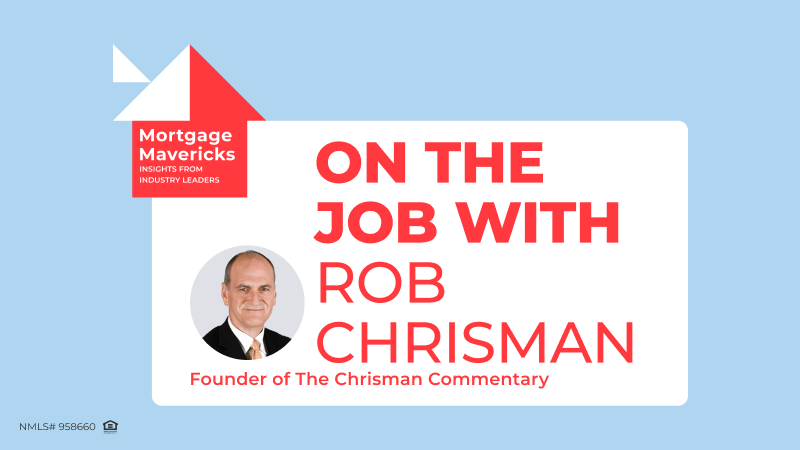 Introducing our exciting new blog series, Mortgage Mavericks: Insights from Industry Leaders.
In this series, we sit down with prominent individuals in the mortgage industry to glean invaluable insights and perspectives. From renowned lenders and brokers to influential regulators and industry experts, we dive deep into their experiences, strategies, and vision for the future. Join us as we uncover the secrets of success, explore emerging trends, and gain expert advice from these mortgage mavens. Our first interview is with Rob Chrisman. founder of The Chrisman Commentary.
Carl: Can you tell us about your journey into the mortgage industry and how you got started?
Rob: My first job in mortgage banking was during the summer of 1985, between my first and second year in the Cal MBA program. The California Mortgage Banking Association had a $1,000-per-month internship program tacked on the bulletin board, and I happened to see it. Prior to that, I'd never heard of the industry.
Carl: Your blog, the Chrisman Commentary, has become a widely read and respected source of industry news and insights. Can you tell us a bit about how you got started with blogging, and what inspired you to create the Chrisman Commentary?
Rob: Working on a trading desk we gave a verbal market update to our clients every day. When email was invented, it became easier to send out something that way. Afterward, as I cycled through a few jobs, LOs and AEs wanted me to send it to them, and it grew organically from there.
Carl: What topics do you typically cover in your blog, and how do you decide what to write about?
Rob: I have a decent network in the industry, and know what the current topics, and thinking, is. I try to make it relevant. Sprinkle in some trivia, a little humor, some investor news, and job or product ads, and that about wraps it up.
Carl: Your blog often includes commentary on current events and trends in the mortgage industry. How do you stay informed and up to date on these topics?
Rob: I am on a very large number of Wall Street and investor distribution lists. I also do a fair amount of traveling, and chat with people in hallways. Many of the basic issues rarely change.
Carl: Your blog also frequently includes commentary on broader economic and political issues that may impact the mortgage industry. Why do you think it's important to consider these external factors when analyzing the industry?
Rob: Mortgage lending touches many facets of daily life, and in turn is touched by many things. World economic events impact rates, as do pandemics, politics, uncertainty, strife, and so on. Everything can be fine in the financial markets until someone fires a missile.
Carl: Your blog has been running for over a decade now. How has it evolved over time, and how do you see it continuing to evolve in the future?
Rob: Actually longer, since around 2008. It hasn't changed much, although my son Robbie would like to make some changes that he believes would benefit readers and Chrisman LLC. Nothing major, just tweaking a few things. The formula works.
Carl: How has your blog impacted your career and reputation in the industry, and how has it helped you to connect with other professionals in the field?
Rob:  It has become my career, and The Chrisman Commentary has built a reputation for having something for nearly everyone. It's free. If you don't like it, don't subscribe. People feel like I'm talking to them, which is good. And it is a great feeling when someone comes up to me at a conference and tells me that they got their job through an ad I ran.
Carl: How do you engage with your readers and followers, and what role do their comments and feedback play in shaping your content?
Rob:  I try to return every email, which surprises many. Reader's comments are a great way to learn what is going on in the business, from a new LO to a seasoned CEO. Everyone's opinion and thoughts matter.
Carl: Can you share any particularly memorable or impactful posts from your blog, and why they stand out to you?
Rob: Oddly enough, both were personal. When my dog, Sweetie, died in 2015, people still mention the obituary that I wrote for her. And then when my father died in 2019, I wrote something in his memory that struck a chord. I received thousands and thousands of emails.
Carl:  How do you balance maintaining the credibility and impartiality of your blog with sharing your own opinions and perspectives on industry issues?
Rob:  I remember that my opinion isn't any more important than anyone else's. I give people the facts, and they draw their own conclusions.
Carl:  What advice would you give to other professionals who are considering starting their own blog or online platform in the mortgage or finance space?
Rob:  Be consistent and provide something that is wanted. Six days a week I get up at 4AM to get it out: it is not for the faint-hearted.
Thank you, you're successfully subscribed!
Thank you, you're successfully subscribed!