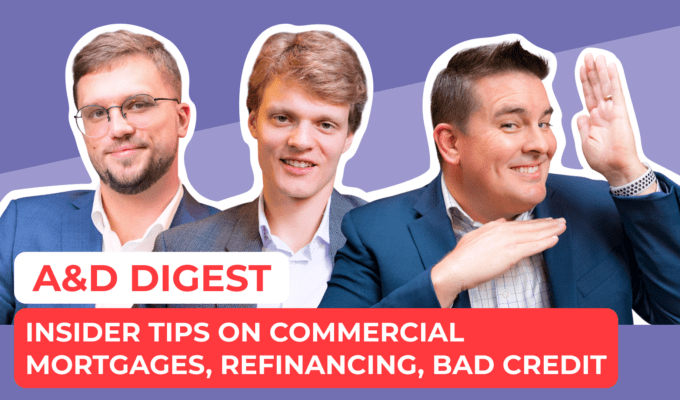 Check out the latest changes in the mortgage industry! Alex Suslov, Head of Capital Markets, and Mike Pearson, SVP of Business Development, discuss a wide range of topics that will affect your pipeline this week:
The guests discussed the new website feature for brokers to quickly submit scenarios for review, as well as the differences between 2008's housing market crash and today.
They also discussed the commercial side of mortgages, refinancing for those with bad credit scores, and A&D's "Scenario Request" tool.
Alex and Mike shared their knowledge on how to best use technology when it comes to submitting requests, such as using apps to request replacements for lost cards rather than calling banks.
MARKET NEWS
Mortgage Banker  —  Non-QM Turns A Corner, But Is It A Resurgence?  "In a market downturn, there's a constant piece of advice that gets thrown around to originators: diversify your portfolio. Much easier said than done, though, especially if you're considering getting into Non-QM."
DSNEWS — Q1 Foreclosure Activity Trends Upward. ATTOM's Q1 2023 U.S. Foreclosure Market Report has found that a total of 95,712 U.S. properties had foreclosure filings during Q1 of 2023, up 6% from Q4 of 2022, and up 22% year-over-year.
UPCOMING WEBINARS
Below is a schedule of upcoming FREE webinars occurring every Tuesday at 1 PM EST. Just click on the webinar you are interested in attending to register.
Expert Insights: Using AI to Supercharge Your Mortgage Business
May 23 at 1 PM EST
Want to gain a competitive edge in a crowded marketplace? Discover how Artificial Intelligence (AI) can automate routine tasks, analyze data, and provide personalized recommendations in the mortgage industry. Our expert panelists will share practical tips on how to integrate AI into your business operations and measure success. Don't miss this opportunity to learn from the pros and unlock the power of AI for your mortgage broker business.
New Broker Orientation
May 9 @ 1 PM EST
Join us for an informative webinar for new brokers to be successful with A&D Mortgage. Learn about important programs, services and technologies designed to expand your pipeline and close loans quickly. NOTE: This is intended for Approved Broker Partners currently working with A&D Mortgage.
Thank you, you're successfully subscribed!
Thank you, you're successfully subscribed!