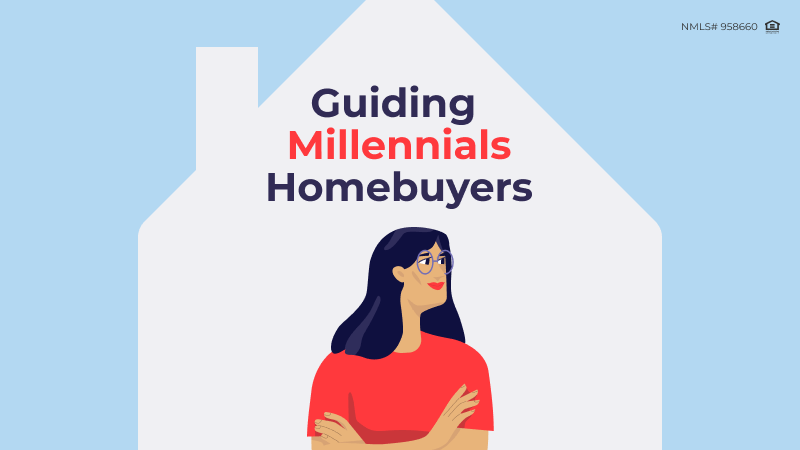 The real estate landscape is experiencing a significant shift as Millennials, the largest generation in history, step into the realm of homeownership. As a mortgage broker, understanding their unique characteristics, preferences, and current housing trends is crucial to effectively guide them through their home-buying journey. This article aims to provide mortgage brokers with valuable insights on advising Millennials, including their defining characteristics, prevailing housing trends, and effective marketing strategies to connect with this generation.

Millennials: Characteristics and Preferences
Tech-Savvy and Information-Driven: Millennials, born between 1981 and 1996, are digital natives who rely on technology for information. They research extensively online, making a robust online presence for mortgage brokers essential.
Financial Prudence: Having witnessed the aftermath of the 2008 financial crisis, Millennials prioritize financial stability. They are cautious about taking on excessive debt and seek transparency in financial transactions.
Lifestyle and Urban Living: Many Millennials are drawn to urban or mixed-use neighborhoods that offer walkability, convenience, and access to amenities. They value experiences, prefer renting initially, and prioritize flexibility.
Millennials, often labeled the "cautious generation," have grown up amidst significant economic and societal events that have shaped their financial outlook and approach to homeownership. These events have made them more discerning and cautious when it comes to making long-term financial commitments. As a mortgage broker, understanding these events and their impact on Millennials' homebuying decisions is crucial for providing tailored advice.
The 2008 Financial Crisis: The 2008 financial crisis left a lasting impact on Millennials' financial mindset. Witnessing the collapse of the housing market, widespread job losses, and economic instability, many Millennials are wary of repeating the mistakes of the past. This event has instilled in them a desire for financial security and a reluctance to take on excessive debt.
Student Loan Debt Crisis: Millennials also face the burden of significant student loan debt. The rising cost of education and the necessity of student loans to fund it have left many Millennials with substantial financial obligations even before considering homeownership. High student loan payments can limit their ability to save for a down payment and influence their debt-to-income ratio, affecting their mortgage eligibility.
Job Market Uncertainty: The gig economy, automation, and rapid technological advancements have brought about job market uncertainties. Millennials have experienced job instability and witnessed traditional career paths evolving. This uncertainty can make them cautious about taking on long-term financial commitments like a mortgage, as they seek flexibility to adapt to changing career landscapes.
Delayed Life Milestones: Compared to previous generations, Millennials are getting married, having children, and buying homes later in life. This delay is influenced by a desire to achieve financial stability and repay debt before committing to homeownership. Brokers should understand this trend and provide solutions that align with Millennials' unique timelines.
Rising Home Prices and Affordability Concerns: Many Millennials are faced with the challenge of rising home prices, especially in desirable urban areas. This can lead to feelings of frustration and uncertainty about whether they can afford a home that meets their needs. Affordability concerns are a significant factor contributing to their cautious approach to homeownership.
Advising Cautious Millennial Homebuyers
Empathy and Understanding: Recognize the impact of these events on Millennials' mindset. Approach your advisory role with empathy and provide a safe space for them to express their concerns and aspirations.
Holistic Financial Assessment: Take a comprehensive look at their financial situation, including student loan debt, job stability, and other commitments. This will enable you to provide tailored mortgage options that accommodate their unique circumstances.
Transparent Education: Educate them about the mortgage process, addressing any concerns or misconceptions they may have due to their cautious approach. Explain how their credit history, debt-to-income ratio, and down payment options influence their mortgage eligibility and rates.
Flexibility in Mortgage Solutions: Offer a range of mortgage solutions that suit Millennials' financial goals. This might include options that consider their debt, provide lower down payment requirements, or offer flexibility in terms to align with their uncertain job market prospects.
Long-Term Financial Planning: Encourage Millennials to focus on long-term financial planning. Help them see how homeownership can be a part of their financial journey and how it aligns with their goals, even amidst caution.
It is also important to understand how Millennials live and work to best advise them on how to become homeowners.
Current Housing Trends Impacting Advising Strategies
Remote Work and Relocation: The rise of remote work has led Millennials to reconsider their living arrangements. Many are moving away from city centers in search of more affordable and spacious housing options.
Sustainable and Energy-Efficient Homes: Millennials are environmentally conscious and prioritize sustainable living. Homes with energy-efficient features and eco-friendly designs are attractive to this generation.
Smart Home Technology: Smart home features are no longer a luxury but an expectation. Advise clients on homes with integrated technology to align with their preferences.
Affordability and Creative Solutions: High student loan debt and rising home prices have prompted Millennials to explore alternative housing solutions, such as co-living spaces and condos, to enter the housing market.
Millennial Homeownership Misconceptions
Millennials, being a tech-savvy and information-driven generation, often come into the homebuying process with a mix of knowledge and misconceptions. These misconceptions can impact their decisions and choices when it comes to purchasing a home. As a mortgage broker, addressing these misconceptions is essential to guide them toward informed and confident decisions.
Misconception: You Need a Large Down Payment: One of the most common misconceptions is that a substantial down payment is required to buy a home. While a higher down payment can lead to better mortgage terms, there are numerous low down payment programs available, especially tailored for first-time homebuyers. It's important to educate Millennials that they don't need to wait until they have a significant amount saved up before considering homeownership.
Misconception: Renting is Always Cheaper: Millennials often assume that renting is always the more affordable option compared to buying a home. However, this isn't always the case. Rising rental costs and historically low mortgage interest rates can make homeownership financially viable, especially in the long run. It's essential to help Millennials assess their individual financial situation to determine what makes sense for them.
Misconception: Perfect Credit Score is a Must: Many Millennials believe they need a flawless credit score to qualify for a mortgage. While a good credit score can certainly help secure better terms, there are mortgage options available for individuals with varying credit scores. It's important to debunk the idea that only perfect credit qualifies for a mortgage and provide guidance on improving credit health if necessary.
Misconception: Monthly Mortgage Payment is the Only Expense: Millennials sometimes underestimate the additional costs associated with homeownership, such as property taxes, homeowners' association (HOA) fees, maintenance, and utilities. Providing a clear breakdown of these costs can help them budget effectively and avoid surprises down the road.
Misconception: Homebuying is a Solo Endeavor: Some Millennials may believe that they need to navigate the homebuying process alone. However, partnering with professionals like mortgage brokers, real estate agents, and financial advisors can provide invaluable guidance and support. Educate Millennials on the benefits of working with experts who specialize in different aspects of the process.
Misconception: Fixer-Uppers Are Always a Bargain: With the popularity of home renovation shows, some Millennials may overestimate their ability to tackle extensive home improvement projects. While fixer-uppers can be an opportunity to add value to a property, they also require time, resources, and expertise. Help them assess the true costs and feasibility of renovations before making a decision.
Misconception: The First Home Must Be Perfect: The pressure to find the "perfect" home can lead Millennials to delay their homebuying journey. It's important to emphasize that the first home doesn't have to be their forever home. Encourage them to focus on their immediate needs and priorities while keeping the possibility of upgrading in the future.
Addressing these common misconceptions is essential for helping Millennials navigate the complexities of the homebuying process. As a mortgage broker, your role extends beyond financial assistance to education and guidance. By debunking these misconceptions, providing accurate information, and offering personalized advice, you can empower Millennials to make informed decisions and embark on their homeownership journey with confidence.
Effective Advising Strategies
Education and Transparency: Millennials appreciate brokers who provide clear and comprehensive information about the mortgage process. Educate them about mortgage terms, interest rates, and options to empower informed decisions.
Digital Engagement: Establish a strong online presence through an informative website, active social media profiles, and blog posts addressing common questions. Engage with Millennials on platforms they frequent.
Personalization: Recognize that every millennial homebuyer is unique. Understand their financial goals, lifestyle preferences, and long-term plans to offer tailored advice and mortgage solutions.
Low Down Payment Programs: Given the financial constraints Millennials often face, familiarize yourself with low down payment mortgage programs and government assistance initiatives to help them overcome this hurdle.
Virtual Tools: Embrace technology by offering virtual consultations, online document submissions, and digital signatures. This modern approach aligns with Millennials' tech-savvy nature.
Effective Marketing Strategies
Social Media Engagement: Utilize platforms like Instagram, Facebook, and LinkedIn to share educational content, success stories, and mortgage insights. Use visual content to engage Millennials effectively.
Content Marketing: Create informative blog posts, videos, and infographics addressing millennial-specific concerns. Address topics like "How to Improve Credit Score for Better Mortgage Rates" or "Navigating First-Time Homebuyer Programs."
Video Content: Leverage the power of video content through webinars, virtual tours of properties, and Q&A sessions. Video content is engaging and allows Millennials to connect on a personal level.
Influencer Collaborations: Partner with local influencers or industry experts to reach a wider millennial audience. Their endorsement can lend credibility and trust to your services.
User-Generated Content: Encourage satisfied millennial clients to share their homebuying journey or testimonials on your platforms. Authentic stories resonate with Millennials and build trust.
Conclusion
Mortgage brokers have a unique opportunity to guide Millennials through the complexities of homeownership. By understanding their unique characteristics, staying informed about housing trends, and implementing effective marketing strategies, brokers can position themselves as trusted advisors in this evolving landscape. Through education, transparency, personalization, and a strong online presence, mortgage brokers can not only help Millennials achieve their dream of owning a home but also build a lasting reputation as reliable partners in their journey toward financial stability and homeownership.
As a mortgage broker, your clients rely on your expertise to find them the best deals. Our Quick Pricer tool can be an invaluable asset in your quest to secure the most advantageous mortgage rates. Be sure to explore our Programs section for additional resources tailored to your needs. If you have specific scenarios in mind, don't hesitate to request them; we're here to assist you. And if you're interested in joining forces to provide even more value to your clients, consider becoming a partner with us. Together, we can empower individuals and families to achieve their dreams of homeownership.
Thank you, you're successfully subscribed!
Thank you, you're successfully subscribed!