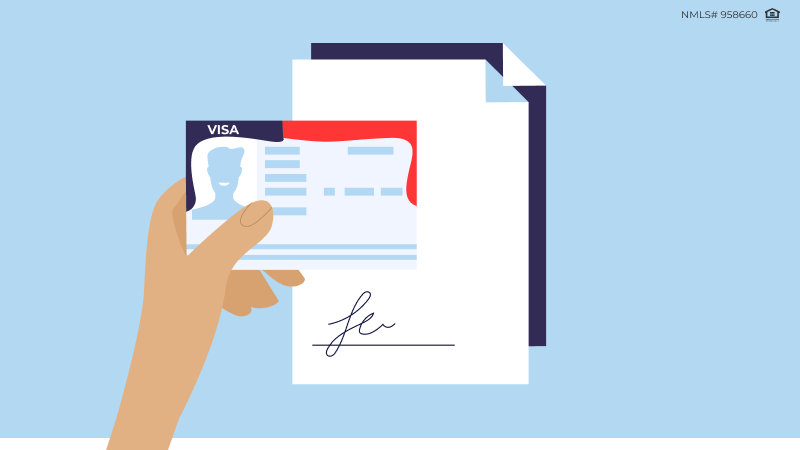 In the ever-diversifying landscape of homeownership, mortgage brokers play a crucial role in helping individuals from various backgrounds secure financing for their dream homes. One group that requires special attention and expertise is non-permanent residents. As a mortgage broker, understanding the unique challenges and opportunities in working with non-permanent residents can help you provide exceptional service and support their homeownership aspirations. In this article, we will explore key considerations and strategies for successfully assisting non-permanent residents in obtaining a mortgage.
Looking for a suitable loan program?
Choose among 20+ programs and get a detailed loan calculation
Loan Calculator
Programs
Pay Attention to Visa Expiration and Renewal
Be aware of the impact of visa expiration on mortgage eligibility. Some lenders may require borrowers to have a visa that extends beyond the loan term. Knowing the timeframe limitations associated with visas will help you guide clients in planning their homeownership goals.
Non-permanent residents often undergo the process of visa renewal, which can pose challenges during the mortgage application process. Stay informed about the procedures and timing involved in visa renewals to proactively address any issues that may arise.
Keep Abreast of Government Programs
Stay updated on government programs and initiatives that provide support for non-permanent residents seeking homeownership. Certain programs may offer reduced down payment requirements or financial assistance tailored to their unique situations. Educate your clients about these opportunities and help them navigate the application process.
Track Legal and Regulatory Changes
Immigration laws and regulations are subject to change. Stay abreast of updates and reforms that may affect mortgage options for non-permanent residents. Regularly consult reputable sources, attend industry conferences, and participate in professional development programs to stay informed about the latest developments.
Establish Relationships with Lenders
Establishing strong relationships with lenders who specialize in serving non-permanent residents is essential for effectively assisting your clients. These relationships can open doors to a wider range of mortgage options and increase your clients' chances of approval.
Here's how you can build and nurture these crucial partnerships:
Research and Identify Lenders: Conduct thorough research to identify lenders who have experience and expertise in working with non-permanent residents. Look for lenders who explicitly mention their willingness to cater to this demographic in their marketing materials or on their websites. Consider both local and national lenders to provide a variety of options to your clients.
Attend Industry Events: Mortgage industry events provide excellent opportunities to connect with lenders who specialize in serving non-permanent residents. Network with representatives from these lending institutions and engage in meaningful conversations to understand their lending criteria, processes, and specific loan products available.
Build Rapport: Once you have identified potential lenders, take the time to establish personal connections with their representatives. Schedule meetings or phone calls to introduce yourself, express your interest in collaborating, and discuss your shared commitment to serving non-permanent residents. Building rapport and mutual trust is crucial for successful long-term partnerships.
Showcase Your Expertise: Demonstrate your knowledge and expertise in working with non-permanent residents to lenders. Share success stories of clients you have helped in the past, emphasizing your understanding of the unique challenges they face and your ability to navigate those challenges effectively.
Exchange Insights: Establishing strong relationships with lenders is a two-way street. Offer your insights and market knowledge to lenders, providing them with a deeper understanding of the non-permanent resident segment and its evolving needs.
Stay Updated: Mortgage lending policies and guidelines are subject to change, including those specific to non-permanent residents. Stay updated on any changes in regulations, underwriting requirements, or loan programs that may impact your clients. Regularly communicate with your lender partners to ensure alignment and awareness of any modifications that may affect loan approvals.
Provide Seamless Communication: Effective communication between mortgage brokers and lenders is vital. Maintain open lines of communication with your lender partners to ensure a smooth and efficient loan origination process for your clients. Promptly provide all required documentation, respond to inquiries in a timely manner, and collaborate closely to address any issues that arise during the underwriting process.
Keep an Eye on Documentation
When working with non-permanent residents seeking a mortgage, thorough documentation is key to ensuring a smooth and successful loan application process. As a mortgage broker, it's crucial to guide your clients through the necessary paperwork and help them organize the required documentation.
Here are some important considerations to expand your understanding of the documentation requirements:
Proof of Identity and Visa Status: Non-permanent residents will need to provide proof of their identity, such as a valid passport, as well as documentation verifying their current visa status (e.g., a copy of their visa, work permit, etc.). Ensure that the documents are up-to-date.
Proof of Income: Non-permanent residents may need to provide proof of income from both domestic and international sources. This can include employment verification letters, pay stubs, bank statements, and tax returns. If they have income from overseas, they may need to provide documentation such as foreign tax returns or proof of rental income.
Credit History: Non-permanent residents should be prepared to provide a comprehensive credit history. This may include credit reports from their home country or any international credit history they have established. Encourage them to gather records of their payment history, outstanding debts, and any relevant financial obligations.
Employment History: Non-permanent residents will need to demonstrate a stable employment history, including details of their current and past employment. This may involve providing employment contracts, reference letters, and work permits.
Bank Statements and Asset Documentation: Non-permanent residents should be prepared to provide bank statements to demonstrate their financial stability and ability to manage mortgage payments. Additionally, documentation of other assets, such as investments or properties, can strengthen their financial profile.
Rental History: If non-permanent residents have a rental history in the country where they are applying for a mortgage, encourage them to provide documentation of their rental payments and a letter of reference from their landlord.
Legal and Translation Services: In some cases, documents may need to be translated into the local language or notarized. Work with reputable legal and translation services to ensure the accuracy and authenticity of the documentation.
Checklists: Assist your clients in keeping their documentation in a clear and organized manner. Create a checklist of required documents and help them gather and submit everything in a timely manner. This will help streamline the loan application process and avoid delays.
Understand Income Considerations
When working with non-permanent residents seeking a mortgage, it's important to have a thorough understanding of the income considerations specific to their situation. Non-permanent residents may have income sources that differ from traditional employment, and as a mortgage broker, you need to be able to assess and verify their income accurately.
Here are some key points to expand your knowledge on income considerations:
Foreign Income: Non-permanent residents may have income sources from overseas, such as investments, rental properties, or business profits in their home country. It's essential to be familiar with the process of assessing and documenting foreign income. Work closely with lenders who have experience in evaluating and accepting foreign income to ensure accurate assessment and inclusion in the mortgage application.
Currency Conversion: When dealing with foreign income, currency conversion becomes a significant consideration. Ensure you understand the process of converting foreign income into local currency and how lenders evaluate the converted amount for mortgage qualification.
Credit and Income Verification: For non-permanent residents, lenders may require additional documentation to verify income and creditworthiness. This can include employment verification letters, bank statements, tax returns from both domestic and international sources, and proof of payment for rental properties or business income. Ensure your clients gather and provide all necessary documentation for income verification.
Seasonal or Variable Income: Some non-permanent residents may have income that is seasonal or variable in nature, such as those working in industries like agriculture or tourism. Understand how lenders assess and average such income to determine mortgage affordability.
Collaboration with Lenders: Building relationships with lenders who specialize in working with non-permanent residents is crucial for navigating income considerations effectively. Collaborate with these lenders to understand their specific income assessment criteria, underwriting guidelines, and any niche loan products they offer for non-permanent residents.
Consider Language and Cultural Sensitivity
Language and cultural sensitivity are essential when working with non-permanent residents seeking a mortgage. As a mortgage broker, understanding and respecting your clients' linguistic and cultural backgrounds can significantly enhance your ability to build trusting relationships.
Here are some key points to expand your knowledge of language and cultural sensitivity:
Language Accessibility: Recognize that language barriers can pose challenges for non-permanent residents who may have limited English proficiency. Take proactive steps to ensure effective communication by employing multilingual staff or partnering with translators or interpreters. Consider providing important documents or information in both English and their native language, if possible.
Clear and Simple Communication: When explaining mortgage terms, requirements, and procedures, use clear and concise language to ensure understanding. Avoid using jargon or technical terms that may confuse non-permanent residents.
Cultural Sensitivity: Show respect and appreciation for your clients' cultural backgrounds. Recognize that customs, traditions, and expectations may vary across different cultures. Be sensitive to cultural norms and preferences when discussing financial matters, as some cultures may approach finances and homeownership differently.
Flexibility in Communication Methods: Understand that communication preferences may differ among non-permanent residents. Some may prefer face-to-face meetings, while others may feel more comfortable with phone or email correspondence. Adapt your communication methods to accommodate their preferences.
Time Considerations: Be mindful of potential time differences when scheduling appointments or contacting non-permanent residents. Respect their schedules and availability, as they may have work obligations or other time-sensitive commitments.
Cultural Celebrations and Holidays: Be aware of significant cultural celebrations, holidays, or observances that may impact your clients' availability or financial planning. Acknowledge and respect these occasions when scheduling meetings or discussing important milestones in the mortgage process.
Cultural Sensitivity Training: Consider participating in cultural sensitivity training programs or workshops to deepen your understanding of different cultures and enhance your ability to work effectively with diverse clients.
Feedback and Adaptation: Actively seek feedback from your non-permanent resident clients regarding their experience working with you. Encourage them to share any concerns or suggestions for improvement. Use this feedback to continuously adapt and refine your approach, ensuring you provide an inclusive and culturally sensitive service.
Educate and Empower
Educating and empowering clients is a critical aspect of a mortgage broker's job, especially when working with non-permanent residents. By providing them with the knowledge and tools they need to make informed decisions, you empower them to navigate the mortgage process confidently.
Here are some key points to expand your understanding of educating and empowering clients:
Mortgage Basics: Start by providing a clear overview of the mortgage process and the key terms and concepts involved. Explain the different types of mortgages available, such as fixed-rate and adjustable-rate mortgages, as well as the components of mortgage payment (principal, interest, taxes, and insurance). Break down complex information into digestible segments and encourage questions to ensure comprehension.
Eligibility and Requirements: Educate your clients about the eligibility criteria and requirements for obtaining a mortgage. Explain the factors that lenders consider, such as credit score, income stability, employment history, and debt-to-income ratio. Help them understand how these factors may impact their ability to qualify for a mortgage.
Mortgage Options: Provide a comprehensive overview of the mortgage options available to non-permanent residents. Explain the specific loan programs or products designed to accommodate their unique circumstances. Discuss the benefits and considerations of each option, such as down payment requirements, interest rates, and repayment terms. Empower them to make informed decisions based on their individual financial goals and capabilities.
Documentation and Paperwork: Guide your clients through the necessary documentation and paperwork required for the mortgage application process. Explain the purpose of each document and its significance in the lender's evaluation process.
Budgeting and Affordability: Help non-permanent residents assess their financial situation and develop a realistic budget. Discuss the factors they should consider when determining how much they can afford in mortgage payments, such as their current income, expenses, and financial goals.
Risks and Considerations: Educate your clients about the potential risks and considerations associated with obtaining a mortgage. Discuss topics such as interest rate fluctuations, prepayment penalties, and potential changes in financial circumstances. Empower them to understand the potential challenges and make informed decisions to mitigate risks.
Changes and Updates: Keep your clients informed about the progress of their application, any changes or updates, and any additional information or documentation required. Empower them by ensuring they are actively involved in the process and feel supported every step of the way.
Post-Closing Support: Offer ongoing support and resources even after the mortgage has been closed. Provide information about mortgage payment options, refinancing opportunities, and homeownership maintenance tips. Empower your clients to become knowledgeable homeowners who can confidently navigate their mortgage responsibilities.
Struggling with a loan scenario? Get a solution in 30 minutes!
Fill out the short form and get your personal offer
Submit Scenario
Conclusion
As a mortgage broker working with non-permanent residents, your role goes beyond facilitating transactions and securing loans. It extends to educating and empowering your clients throughout the mortgage process. This involves clear communication, explaining eligibility criteria and mortgage options, and understanding cultural differences. By providing ongoing support and resources, you help clients develop a budget and understand the risks. By educating and empowering non-permanent residents, you contribute to their success in homeownership and establish yourself as a trusted advisor. By going the extra mile, you leave a positive impact on their lives.
As a mortgage broker, your clients rely on your expertise to find them the best deals. Our Quick Pricer tool can be an invaluable asset in your quest to secure the most advantageous mortgage rates. Be sure to explore our Programs section for additional resources tailored to your needs. If you have specific scenarios in mind, don't hesitate to request them; we're here to assist you. And if you're interested in joining forces to provide even more value to your clients, consider becoming a partner with us. Together, we can empower individuals and families to achieve their dreams of homeownership.
Thank you, you're successfully subscribed!
Thank you, you're successfully subscribed!