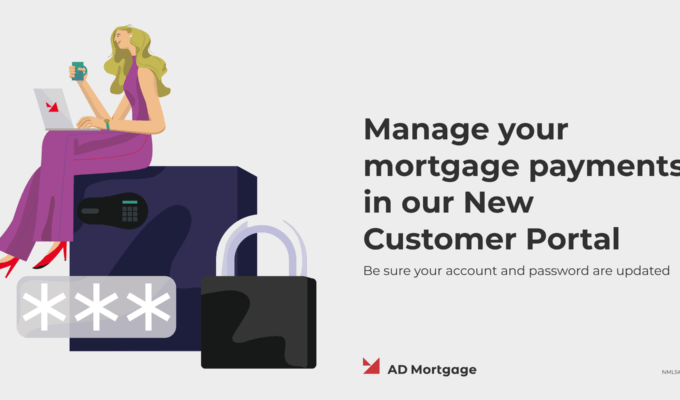 This is to inform our borrowers that as part of AD Mortgage's mission to make our technology more enhanced, we will be introducing a new Customer Portal to manage their loan and payments. The portal has already opened for registration of our new borrowers September 1st, 2022. Starting from September 19th, our existing borrowers will be able to register in the new portal as well.
In the new portal, you will have access to all functions available in the previous A&D Mortgage platform, and we will be providing additional new features and more convenient ways to receive information about your loan.
Looking for a suitable loan program?
Choose among 20+ programs and get a detailed loan calculation
Loan Calculator
Programs
To get started, you need to register as a new user and fill out a short form with loan account data (name, SSN, loan number, property zip code).
Once you've done this, you'll find all the information you may need:
Loan Details
Loan Transaction History
Tax and Insurance Information
Also, you can easily set up your payment by choosing from the following options:
Recurring ACH Payment
One-time ACH Payment
The new Borrower Portal will allow you to calculate your payoff information, as well as access all documents you may need, such as monthly or year-end statements. Please note that if you need docs for previous periods, you'll have to place a request by filling out a special form in the My Mortgage section of our website.
As a mortgage broker, your clients rely on your expertise to find them the best deals. Our Quick Pricer tool can be an invaluable asset in your quest to secure the most advantageous mortgage rates. Be sure to explore our Programs section for additional resources tailored to your needs. If you have specific scenarios in mind, don't hesitate to request them; we're here to assist you. And if you're interested in joining forces to provide even more value to your clients, consider becoming a partner with us. Together, we can empower individuals and families to achieve their dreams of homeownership.
Thank you, you're successfully subscribed!
Thank you, you're successfully subscribed!