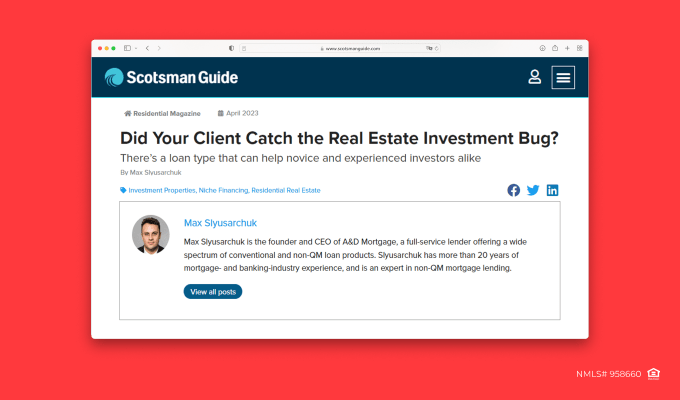 Get ready to be informed and inspired by the brilliant mind behind A&D Mortgage! Max Slyusarchuk's latest article in the April edition of Scotsman Guide is a must-read for anyone looking to stay ahead of the game in the mortgage industry. Discover his unique insights and expert advice that you won't find anywhere else. Don't miss out on this exceptional opportunity to gain valuable knowledge and elevate your business savvy.
KEY HIGHLIGHTS:
Mortgage lenders use credit scores, employment history, downpayment size, debt-to-income ratio and required documentation to evaluate borrower's loan application.
Self-employed individuals and real estate investors may not qualify for a conventional loan due to lack of W-2 income, but Non-QM lenders specialize in meeting the needs of such borrowers with flexible underwriting guidelines.
Debt Service Coverage Ratio (DSCR) is used to calculate whether an investment property is generating sufficient income to service the loan debt. Gross rental income is compared with anticipated mortgage expenses.
DSCR loans are beneficial for both new and experienced real estate investors as eligibility is not based on personal income and closing process is swift. These loans also allow for borrowing on multiple properties, cash out options and foreign nationals can apply.
Thank you, you're successfully subscribed!
Thank you, you're successfully subscribed!