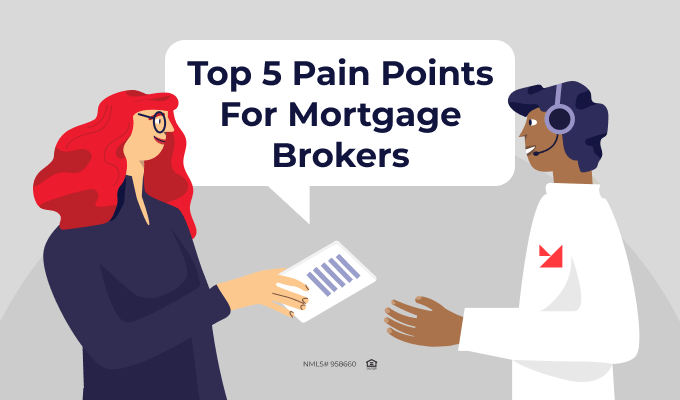 Even in the best of times, being a mortgage broker has its share of challenges. But in 2022, the pressures can often seem insurmountable.
In an industry where change is the only constant and adaptation is crucial to survival, mortgage brokers need to know that their lender has their back. Always. 24/7. Especially in difficult times.
Looking for a suitable loan program?
Choose among 20+ programs and get a detailed loan calculation
Loan Calculator
Programs
A&D Mortgage is constantly inventing and implementing new technologies, processes, and systems. We do this to make the lives of our broker partners more efficient, effective, and profitable.
Below is a list of the Top 5 pain points brokers face and how A&D helps to overcome them:
1. Long turnaround times
Long turnaround times are the bane of a mortgage broker's existence. Even the difference of a few days between submission and closing can be the difference between success and failure.
At A&D, we utilize the latest technology to ensure fast turnaround times. Automated Decision Manager, Quick Pricer and AD Appraisal Center speed up the mortgage loan process, so our brokers are always informed, efficient and competitive.
2. The ever-evolving industry
If the pandemic proved anything, it was the need for brokers to be constantly pivoting and adapting to a rapidly changing business environment. And in that environment, information and education are key.
A&D provides our brokers with vital, up-to-date information about the mortgage landscape. We do this through social media, blogs, bylined articles in trade publications, a weekly video market digest, and educational webinars.
3. Securing a loan approval
Often brokers and their clients are frustrated by the seemingly long and laborious process of getting approved for a mortgage loan. But banks must adhere to the strict underwriting guidelines set by GSEs and government regulators.
At A&D, we adhere to those same standards; however, we often have more flexibility to offer. We fund and securitize our own loans. So, we develop our own underwriting guidelines for Non-QM loans and make our own decisions to whom we lend.
4. Understanding the products they sell
Mortgage brokers must have a thorough understanding of the loan products they are selling. This helps them to effectively represent their clients and to ensure their own success. Too often, they are unfamiliar with the intricacies of a specific type of loan.
At A&D, we assist our brokers with educational webinars and speaking sessions about our products to provide them with the expertise they require. Our knowledgeable Account Executives are well-versed in Non-QM mortgages to guide them step-by-step through any questions they or their clients might have.
Struggling with a loan scenario? Get a solution in 30 minutes!
Fill out the short form and get a call from our AE
Submit Scenario
5. Intense Competition
There are many different companies offering mortgage brokering services, which can make it difficult for individual mortgage brokers to stand out from the crowd. This intense competition can potentially lead to lower fees and commissions for brokers.
In such a competitive environment, it is crucial for brokers to choose the right lender. A&D Mortgage offers unrivaled technology platforms, wide-ranging loan products, outstanding customer service, and unmatched expertise in Non-QM lending – all to help our broker partners achieve the success they richly deserve.
We've got your back to avoid these pains. Experience it for yourself by Becoming a Partner today!
As a mortgage broker, your clients rely on your expertise to find them the best deals. Our Quick Pricer tool can be an invaluable asset in your quest to secure the most advantageous mortgage rates. Be sure to explore our Programs section for additional resources tailored to your needs. If you have specific scenarios in mind, don't hesitate to request them; we're here to assist you. And if you're interested in joining forces to provide even more value to your clients, consider becoming a partner with us. Together, we can empower individuals and families to achieve their dreams of homeownership.
Thank you, you're successfully subscribed!
Thank you, you're successfully subscribed!