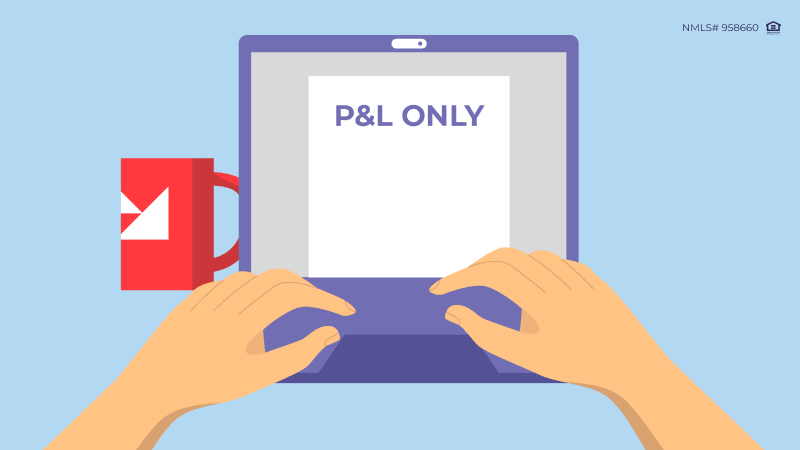 Introduction
For many self-employed individuals, the dream of homeownership can seem elusive due to the unique financial challenges they face. Traditional mortgage lenders often rely on W-2 income statements, making it difficult for those who work for themselves to prove their ability to repay a loan. However, there's a financial tool that can help bridge this gap: P&L (Profit and Loss) mortgages. In this blog post, we'll explore the concept of P&L mortgages and how they can benefit self-employed borrowers on their journey to owning a home.
The Challenges Self-Employed Borrowers Encounter
Securing a mortgage as a self-employed individual comes with its own set of hurdles:
Irregular Income: Unlike salaried employees who receive a predictable paycheck, self-employed individuals often experience fluctuating incomes. This variability can make it challenging to demonstrate financial stability to lenders.
Tax Deductions: Self-employed individuals can take advantage of various tax deductions to reduce their taxable income. While this is beneficial for tax purposes, it can lower the income figure reported on paper, potentially impacting mortgage approval.
Lack of Traditional Documentation: Traditional employees can provide paystubs as proof of income, while self-employed borrowers lack these conventional documents, making it more challenging to verify income.
What is a P&L Mortgage?
A P&L mortgage, also known as a bank statement mortgage or a non-QM (Non-Qualified Mortgage) loan, is a specialized home loan designed specifically for self-employed borrowers. Unlike traditional mortgages that heavily rely on W-2 forms and tax returns, P&L mortgages take a different approach. They assess a borrower's income by examining their business's profit and loss statements, bank statements, and other financial documents. This approach offers a more accurate reflection of a self-employed borrower's financial health.
Eligibility Criteria for P&L Mortgages
To qualify for a P&L mortgage, self-employed borrowers must meet certain criteria:
Documentation: Be prepared to provide detailed profit and loss statements, bank statements, and other financial records that demonstrate the stability and profitability of your business. A&D Mortgage simply requires a P&L prepared by a 3rd Party CPA.
Credit Score: Maintain a good credit score, as lenders will still consider your creditworthiness when assessing your mortgage application. A&D Mortgage requires a FICO score of at least 660.
Down Payment: Have a down payment ready, as P&L mortgages typically require a similar down payment as traditional mortgages. The specific amount may vary depending on the lender and the loan program.
The Importance of Accurate Financial Statements
Accurate profit and loss statements are the cornerstone of a successful P&L mortgage application. These documents serve as proof of your income and expenses, allowing lenders to assess your financial stability. Keeping well-organized and up-to-date financial records is essential for streamlining the approval process.
Tips for Self-Employed Borrowers
Securing a P&L mortgage may seem challenging, but there are steps you can take to improve your chances:
Steady Income: Aim to maintain a consistent and reliable income whenever possible. Lenders appreciate financial stability.
Debt Management: Work on reducing outstanding debt and improving your debt-to-income ratio to showcase your financial responsibility.
Experienced Mortgage Brokers: Seek out experienced mortgage brokers who specialize in P&L mortgages. They can provide valuable guidance and connect you with lenders who understand the unique needs of self-employed borrowers.
Pros and Cons of P&L Mortgages
Like any financial product, P&L mortgages come with their own set of advantages and disadvantages:
Pros:
Flexible Income Assessment: P&L mortgages offer flexibility in assessing your income, considering your actual net income rather than a fixed salary.
Competitive Interest Rates: If you qualify, P&L mortgages often come with competitive interest rates, potentially resulting in cost savings over the life of your loan.
Cons:
Potential Higher Interest Rates: Some P&L mortgages may have slightly higher interest rates compared to traditional mortgages. It's essential to compare offers and terms from different lenders.
Strong Credit History Required: Maintaining a solid credit history remains crucial when applying for a P&L mortgage, as lenders still evaluate your creditworthiness.
Finding the Right Lender
When seeking a P&L mortgage, it's crucial to find a lender experienced in working with self-employed borrowers. Not all lenders offer P&L mortgages, and some may have specific guidelines. Shopping around and comparing offers can help you secure the most favorable terms for your unique financial situation.
Conclusion
In conclusion, P&L mortgages offer a promising solution for self-employed individuals seeking to achieve homeownership. By understanding the challenges self-employed borrowers face, meeting the eligibility criteria, and following the tips provided in this guide, you can confidently navigate the mortgage application process. With the right lender and well-maintained financial records, homeownership can become a reality, even for those with non-traditional income sources.
Owning a home is a significant milestone, and P&L mortgages empower self-employed individuals to take control of their financial future. These specialized mortgage products recognize the unique income streams and tax deductions that often accompany self-employment. By evaluating a borrower's financial health holistically, P&L mortgages make homeownership more accessible and attainable for the self-employed.
As you embark on your journey to secure a P&L mortgage, remember that preparation and persistence are key. Keep your financial records in order, work on improving your credit score, and partner with professionals who understand the intricacies of P&L mortgages. With dedication and the right resources, you can turn your homeownership dreams into reality.
In our next blog post, we will explore the benefits of P&L mortgages in more detail. We'll discuss how these mortgages can not only overcome the challenges of self-employment but also offer unique advantages that make them a compelling choice for those with entrepreneurial spirits. Stay tuned for more insights into how P&L mortgages can pave the way to homeownership for self-employed individuals.
As a mortgage broker, your clients rely on your expertise to find them the best deals. Our Quick Pricer tool can be an invaluable asset in your quest to secure the most advantageous mortgage rates. Be sure to explore our Programs section for additional resources tailored to your needs. If you have specific scenarios in mind, don't hesitate to request them; we're here to assist you. And if you're interested in joining forces to provide even more value to your clients, consider becoming a partner with us. Together, we can empower individuals and families to achieve their dreams of homeownership.
Thank you, you're successfully subscribed!
Thank you, you're successfully subscribed!