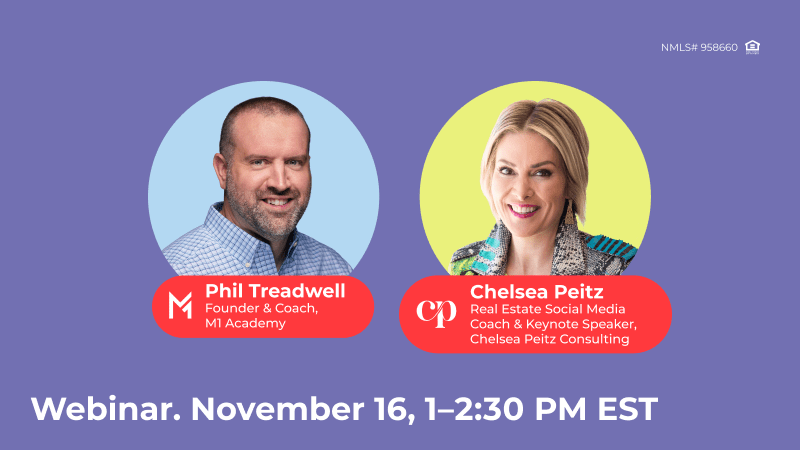 Join us for an immersive and dynamic webinar experience as we delve into the art of "Crafting Your Mortgage Broker Brand and Dominating Social Media." In this power-packed session of our 2-part webinar series, we are thrilled to bring you insights and expertise from two industry luminaries, Phil Treadwell and Chelsea Pietz.
Phil Treadwell, a distinguished figure in the mortgage world (LinkedIn: https://www.linkedin.com/in/philtreadwell/), will lead us through the essential steps of brand creation for mortgage brokers. With years of experience under his belt, Phil will share proven strategies to define and refine your unique brand identity, allowing you to stand out in a crowded marketplace. Discover how to build trust, credibility, and a lasting connection with your audience, setting the stage for unparalleled success in the digital realm.
But that's not all – we're doubling the expertise with Chelsea Pietz (Website: https://www.chelseapeitz.com/), a social media maven who has transformed businesses through strategic online presence. Chelsea will guide us through the intricate world of social media platforms, unveiling the secrets to selecting the right ones for your brand and audience. Gain valuable insights into optimizing content, engaging with your community, and leveraging platforms for maximum impact.
Together, Phil and Chelsea will seamlessly merge the realms of branding and social media, equipping you with actionable takeaways to craft an authentic brand voice and conquer the digital landscape. Whether you're a seasoned mortgage professional looking to amplify your online presence or a newcomer eager to make a splash, this webinar is your gateway to mastering the art of brand building and social media dominance.
Don't miss this opportunity to learn from the best! Reserve your spot now and embark on a journey to elevate your mortgage broker brand like never before.