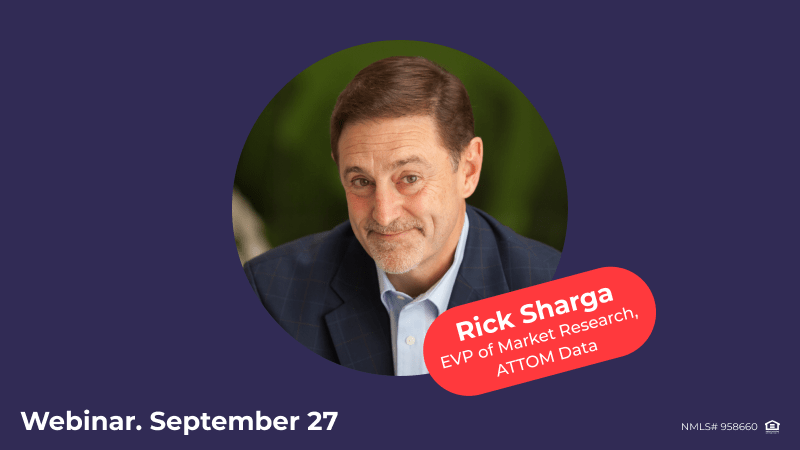 Delve into the intricacies of the fall housing market and gain actionable insights that will empower you to guide your clients effectively. As the leaves change, so do the dynamics of the real estate market. In this webinar, esteemed real estate authority Rick Sharga will dissect the latest trends, providing you with the tools to navigate lending strategies in the evolving landscape. Whether you're a seasoned professional or just starting out, this webinar is your key to staying ahead in the autumn market. Mark your calendar and secure your spot to gain invaluable knowledge from a true expert.
Our Presenter:
Rick Sharga, Founder & CEO, CJ Patrick Company
Rick is the Founder & CEO of CJ Patrick Company, a market intelligence and advisory firm for companies in the real estate and mortgage industries.
One of the country's most frequently quoted sources on real estate, mortgage and foreclosure trends, Rick has appeared on CNBC, CBS News, NBC News, CNN, ABC News, FOX, Bloomberg, and NPR. Rick is a founding member of the Five Star National Mortgage Servicing Association, on the Board of Directors of the Asian Real Estate Association of America and the National Association of Default Professionals, and was twice named to the Inman News Inman 100, an annual list of the most influential real estate leaders.
Rick has over 20 years of experience in the real estate and mortgage industries, including roles as the EVP/Market Intelligence at ATTOM Data, EVP for Carrington Mortgage Holdings, EVP of Marketing at RealtyTrac, and Chief Marketing Officer of Ten-X and Auction.com, the leading online real estate marketplace.