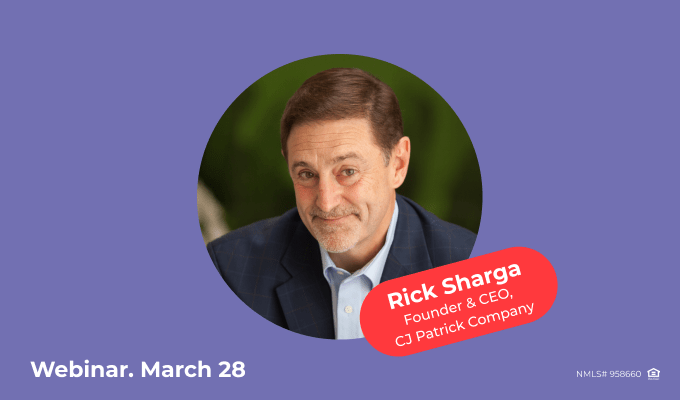 As we approach the spring of 2023, try to stay ahead of the real estate curve with this exclusive webinar hosted by Rick Sharga from CJ Patrick Company. With decades of experience in the real estate industry, Rick is a sought-after expert on market trends and an authority on forecasting prices in the coming year and beyond. Now, you can get his predictions for what lies ahead with this look into conditions in the real estate market for 2023. Don't miss out on gathering invaluable intel regarding where, when and why to invest your money this spring.
Register today!
Our Presenter:
Rick Sharga, Founder & CEO, CJ Patrick Company
Rick is the Founder & CEO of CJ Patrick Company, a market intelligence and advisory firm for companies in the real estate and mortgage industries.
One of the country's most frequently quoted sources on real estate, mortgage and foreclosure trends, Rick has appeared on CNBC, CBS News, NBC News, CNN, ABC News, FOX, Bloomberg, and NPR. Rick is a founding member of the Five Star National Mortgage Servicing Association, on the Board of Directors of the Asian Real Estate Association of America and the National Association of Default Professionals, and was twice named to the Inman News Inman 100, an annual list of the most influential real estate leaders.
Rick has over 20 years of experience in the real estate and mortgage industries, including roles as the EVP/Market Intelligence at ATTOM Data, EVP for Carrington Mortgage Holdings, EVP of Marketing at RealtyTrac, and Chief Marketing Officer of Ten-X and Auction.com, the leading online real estate marketplace.