As we head into a new year, it's important to reflect on what you can do to improve your business. In this blog post, we'll outline 10 sales tips that will help you beat out your competition and attract more customers in 2023. Keep reading for helpful advice that will help you succeed!
Get Personal
People don't want to feel like they are just one of many people. You can show your clients that you are working for them by doing something personal during the loan process. It is important to know your market so you can understand how to connect with potential customers. There are a lot of different types of people in the world, and you can't prepare for all of them. But it is helpful to do research on your audience so you can get to know them better.
Respect the potential buyer's time. That means you should be willing to take their calls outside of your normal work hours or meet them when it is convenient for them. Most potential homeowners want to spend time understanding their options and finding the best mortgage. If you try to make them work around your schedule or push them to buy when they are not ready, they may feel like they are just another number. It can be a hassle, but it will be worth it if you can increase your mortgage sales.
Software that helps with customer relations management (CRM) and mortgage point-of-sale (POS) also allows loan officers to work with more clients. They can personalize their interactions with each individual. This is important because every interaction should be tailored to the person's needs.
Refer, Refer, Refer
Another way to make your sales more personal is to have a network of referrals. People in your industry who are not your competitors can give you referrals. This will save you time and energy because you will not have to search for new leads.
People who receive a referral from someone they trust, such as their real estate agent, are more likely to use your company. This is because they already have a relationship with you and know that you are an expert in what you do.
Believe in What You Sell
When you are selling a mortgage option, there are some things you can do or teach others to do. But there is also something that is harder to explain. You need to have a good personality and be charming when you talk to the customer. This will help them see you as more than just someone who is selling a product.
Like with the last mortgage sales tip, it is important that you connect with the customer. One way to do this is by establishing yourself and your company as experts in the industry. Explain how long you have been working, what types of mortgages you know about, and other features that make your company different from the competition.
Be Transparent
It is important to be transparent with your clients and help them understand the loan process. Many people are not aware of the many complexities involved in getting a loan. You need to explain the details to them, as well as how they can evaluate data that might seem confusing at first. It is your responsibility to educate your clients and help them through the process. This will ensure that they have realistic expectations about the type of mortgage they need and the amount of time it will take to get it approved. For example, this is what a typical mortgage application process that your borrower might experience would look like: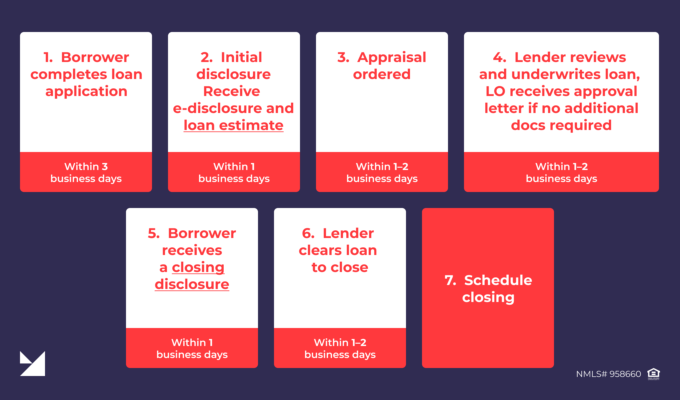 Be Digitally Savvy
Back in the day, people may not have known how to use social media to get their business out there. But now, in today's world, it is a very effective way to market your business. You can find new leads through social media, and online advertising can also help increase the number of your clients.
Social media is a great place to provide interesting and informative content for people who might be interested in buying a home. This content doesn't have to be dry – you can make it interesting and engaging!
And, you can do this easily with social media templates in AD Studio, our on-line marketing platform. We have several videos to demonstrate this:
More and more millennials are getting mortgages. They will expect to do a lot of the work on their laptops. If your company does not have a website that is easy to use, then your company will be behind the times. Other businesses will have websites that are customized for millennials who are looking for mortgages.
Be Fast and Effective
Another important technique for selling mortgages is to act fast. This is especially important for businesses that want to appeal to millennials. These young adults like getting things done quickly. However, you don't want to sacrifice important details in order to be fast. People will appreciate quick response times, though.
Zillow Home Loans did some research and found that only 13% of people who want to buy a home shop around for a mortgage before applying. People spend more time researching cars and vacations than they do mortgages. One fear that borrowers have in making multiple mortgage inquiries is that it would adversely affect their credit score. It usually will not – while mortgage pre-approval can impact a credit score, buyers can shop and submit multiple applications over 45 days without it affecting their credit score.
Not doing enough research before applying for a mortgage could cost your borrowers a lot of money. It has always been important to shop around for the best mortgage deal, and to understand how to help them improve their credit score before applying. But at a time when mortgage rates are at record highs, it's more important than ever. So, speed is everything.
Automate Where You Can
Mortgage technology and automation can be a fantastic asset for those in the business, allowing them to work faster and free up valuable time. Often people get stuck spending hours performing menial tasks which could be done faster (or even eliminated) with a few automated processes. This will allow you to focus on the more important activities that make your business thrive, giving you the opportunity to expand your services, grow client trust and build success. What's more, you'll be able to provide better customer experience – something that is invaluable in an industry like mortgage. One of the best things about automation is that it makes these mundane tasks much easier so you can do more of what you do best: providing outstanding services with unbeatable speed.
Know Your Priorities
When you are looking for customers and opportunities, it is important to focus on the right ones. You can do this by sorting and prioritizing leads accurately. This way, you can save time by only focusing on the people who are serious about buying a home. Most loan officers learn to look for signs that a person is interested in taking out a loan and has realistic expectations.
Some of this comes from experience, but you can also learn by framing questions in a certain way to prospective clients. For example, you don't want to spend too much time and money on people who weren't serious about buying a home.
Don't Forget to Follow Up
Keep in touch with your customers. If they decide that they don't want to get a loan now, don't push them. But do remind them that you're still interested in helping them when they're ready. Use your best judgment about how much time to wait before following up. It's a good way to remind customers that you're still a good option.
You can remind them with a thank-you note or email or ask if they want to meet again. It all depends on the situation, but it's always a good idea to follow up in some way and let the customer know you're available if they need help.
You can also message clients or potential clients on special occasions, like birthdays. When you continue to build relationships with them, they are more likely to choose your company when they need a loan, and they might also recommend you to their friends and family.
Be Uplifting
People respond better to positive things. You should be relaxed and friendly when your clients are around. When people take out loans, it can be a scary process. It is important to smile and have a good relationship with them. You should also be professional and respectful to your clients. Don't joke too much or they will not see you as an expert in the field.
Conclusion:
If you're looking to beat out the competition and attract more business in 2023, following these 10 sales tips should put you on the right track. From getting personal with your clients to always following up after a meeting, closing the sale will become second nature in no time. And with a little help from technology, automating some of your processes, you'll be able to work smarter, not harder. So what are you waiting for? Get started today and see results tomorrow!
Thank you, you're successfully subscribed!
Thank you, you're successfully subscribed!