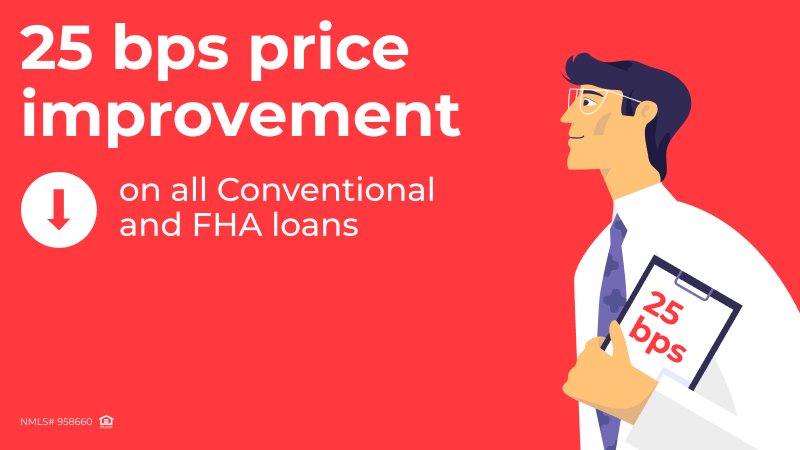 At A&D Mortgage, we constantly strive to deliver the best products and offerings to our trusted partners, and today, we're excited to announce an enhancement to our pricing that we believe will further your growth and success.
Announcing: A 25 Basis Points Improvement on Pricing for All Conventional and FHA Mortgage Loans!
Effective October 30th, you will benefit from a 25bps (0.25%) improvement on all Conventional and FHA mortgage loans. This means more competitive rates for your clients and potentially higher closings for you. It's our way of expressing our appreciation for your continued partnership and commitment.
Struggling with a loan scenario? Get a solution in 30 minutes!
Fill out the short form and get a call from our AE
Submit Scenario
Why Choose A&D Mortgage?
Competitive Pricing: With our enhanced rates, position yourself at the forefront of the mortgage market.
Dedicated Support: Our team remains committed to ensuring that your transactions proceed smoothly and efficiently.
Broad Portfolio: Offering a wide variety of mortgage products, we aim to cater to the diverse needs of your clients.
Next Steps
Review the new pricing on our broker portal.
Start submitting your Conventional and FHA loans to take advantage of this fantastic offer.
Should you have any questions or need more information, please reach out to your dedicated Account Executive.
This pricing improvement is a testament to our dedication to your success. We value our partnership and look forward to bringing even more enhancements and offerings in the future.
Thank you, you're successfully subscribed!
Thank you, you're successfully subscribed!