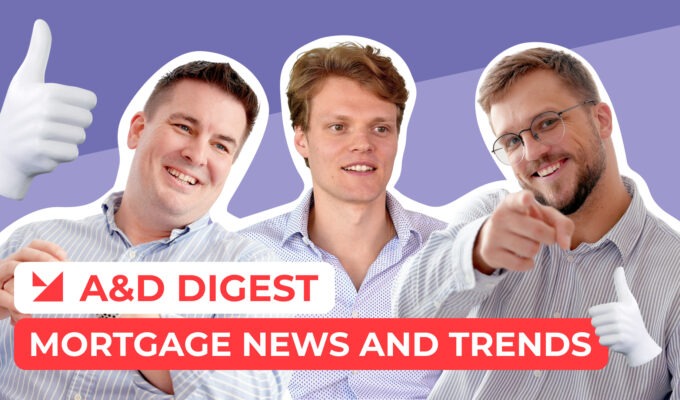 Check out the latest changes in the mortgage industry! Alex Suslov, Head of Capital Markets, discusses what will affect your pipeline this week:
Interpreting recent economic trends hinting at inflation and recession
More likely increase in interest rates
Allowing short-term rentals for LTVs up to 80% on our DSCR program
Extension of our West Coast sales promotion
Next, Wholesale Team Leader Mike Majidian discusses affordable markets in California and Arizona. Watch the inspiring and positive discussion, full of thoughtful and valuable insights from experienced experts!
MARKET NEWS
NMP— Foreclosures In February: Down Monthly, Up Annually  Overall foreclosure activity declined in February after nearly two years of monthly increases, but the number of completed foreclosures is still significantly higher than a year earlier, according to a new report from ATTOM."
HOUSING WIRE – How A&D Mortgage drummed up sales in 2022 "Non-QM wholesale lender A&D Mortgage saw origination volume increase by more than 31% in 2022 thanks to its tech improvements and servicing portfolio."
UPCOMING WEBINARS
Below is a schedule of upcoming FREE webinars occurring every Tuesday at 1 PM EST. Just click on the webinar you are interested in attending to register.
Expert Insights: What Lies Ahead in the Spring Housing Market
Speaker: Rick Sharga, Founder & CEO, CJ Patrick Company
March 28 at 1 PM EST
As we approach the spring of 2023, try to stay ahead of the real estate curve with this exclusive webinar hosted by Rick Sharga from CJ Patrick Company. With decades of experience in the real estate industry, Rick is a sought-after expert on market trends and an authority on forecasting prices in the coming year and beyond. Now, you can get his predictions for what lies ahead with this look into conditions in the real estate market for 2023. Don't miss out on gathering invaluable intel regarding where, when and why to invest your money this spring. Register today!
New Broker Orientation
March 14 @ 1 PM EST
Join us for an informative webinar for new brokers to be successful with A&D Mortgage. Learn about important programs, services and technologies designed to expand your pipeline and close loans quickly. NOTE: This is intended for Approved Broker Partners currently working with A&D Mortgage.
Thank you, you're successfully subscribed!
Thank you, you're successfully subscribed!