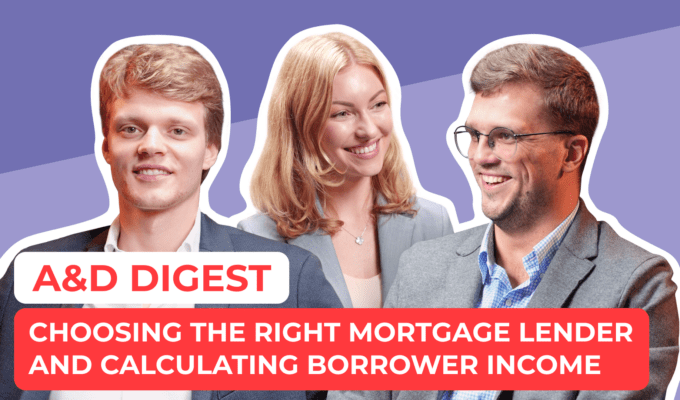 Check out the latest changes in the mortgage industry! Alex Suslov, Head of Capital Markets, discusses what will affect your pipeline this week:
How recent economic data impacted the markets – new jobs, unemployment
What borrowers should consider when choosing a lender after the recent bank failures
How bank statement loans can benefit self-employed borrowers
How short-term rentals help qualify borrowers for DSCR loans
Next, Alina Tsarenko, Disclosure Team Lead, will be discussing some tools available on our website to help brokers quickly get monthly income calculations for self-employed borrowers seeking bank statement loans.
MARKET NEWS
Scotsman Guide — Did Your Client Catch the Real Estate Investment Bug?.  "When mortgage lenders evaluate a borrower's loan application, many factors are considered to determine creditworthiness. Among these are credit scores, employment history, downpayment size, debt-to-income ratio and the submission of all required documentation. Not all borrowers, however, are able to provide the documentation that is required to qualify for a conventional loan."
Bloomberg — JPMorgan, Goldman Plan to Start Trading Private Credit Loans  "Wall Street banks are looking to start trading private credit loans as they seek to make inroads into the lucrative world of direct lending, a potential first step that could ultimately reshape the largely buy-and-hold market."
DS News — Property Taxes Increase to $340B Annually.  "Covering property tax data for 87 million single-family homes, ATTOM Data has announced that an estimated $339.8 billion in property was levied in 2022, up 3.6% from $328 billion in 2021"
UPCOMING WEBINARS
Below is a schedule of upcoming FREE webinars occurring every Tuesday at 1 PM EST. Just click on the webinar you are interested in attending to register.
Expert Insights: Working Smarter to Broker More Business
Speakers: Mark Glaser, Wholesale Account Team Leader; Richard Dwyer, Wholesale Account Executive; David Colwell, EVP of Lender Price; Rob Chrisman, Moderator and Author of Chrisman Blog
April 25 at 1 PM EST
Brokers are always looking for reliable, expert-backed advice on how to optimize their workflows and maximize profitability. Our upcoming webinar is designed to provide brokers with just that – valuable guidance from top professionals in the business. You will have access to renowned experts who will share their knowledge on what it really takes to streamline processes and increase the amount of sales in your brokerage business with the least effort possible. Attend our webinar and leave with actionable practices that you can apply right away!
New Broker Orientation
April 11 @ 1 PM EST
Join us for an informative webinar for new brokers to be successful with A&D Mortgage. Learn about important programs, services and technologies designed to expand your pipeline and close loans quickly. NOTE: This is intended for Approved Broker Partners currently working with A&D Mortgage.
Thank you, you're successfully subscribed!
Thank you, you're successfully subscribed!