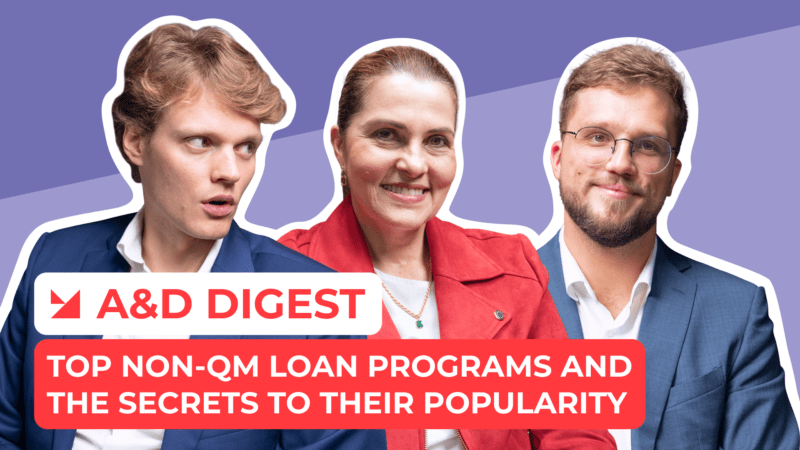 Are you ready to take your mortgage business to new heights? We have some exciting news for you! In the latest episode of A&D Digest, we delve into the world of mortgage lending and capital markets, bringing you valuable insights and powerful tools to help you thrive.
Join us as we sit down with industry experts Alex Suslov and Lucy Mantilla from A&D Mortgage, who share their expertise on popular loan programs, new developments, and the competitive advantages of working with A&D Mortgage.
Here's what you can expect from this episode:
Explore the Top Loan Programs: Wholesale Account Executive Lucy Mantilla unveils the secrets behind A&D Mortgage's most popular loan programs, including DSCR, Bank Statements, P&L, Foreign Nationals, and Full Doc Non-QM loans. Discover alternative qualifying options for clients who don't fit traditional loan criteria.
Stay Ahead with New Developments: Alex Suslov, Head of Capital Markets, discusses exciting new developments, such as second lien programs and down payment assistance for conventional loans. Learn how these innovations can help you cater to a broader market and boost your business.
Unveiling Unique Tools and Services: Discover the power of A&D Mortgage's exclusive tools designed to streamline your workflow and enhance customer experience. From the award-winning Quick Pricer for instant rate quotes to the 24/7 assistant and concierge service for bank statements, we have you covered at every step.
MARKET NEWS
FHFA — U.S. House Prices Rise 4.3 Percent over the Last Year; Up 0.5 Percent from the Fourth Quarter. The U.S. house prices rose 4.3 percent between the first quarters of 2022 and 2023, according to the Federal Housing Finance Agency (FHFA) House Price Index (FHFA HPI®). House prices were up 0.5 percent compared to the fourth quarter of 2022. FHFA's seasonally adjusted monthly index for March was up 0.6 percent from February.
Scotsman Guide — The Allure of Luxury. A&D Mortgage CEO Max Slyusarchuk discusses the state of the housing market, particularly the luxury home segment, and the role of jumbo mortgages in its growth. It highlights the impact of the COVID-19 pandemic on the housing market, with high demand and limited supply leading to bidding wars and shorter time on the market for homes.
Thank you, you're successfully subscribed!
Thank you, you're successfully subscribed!