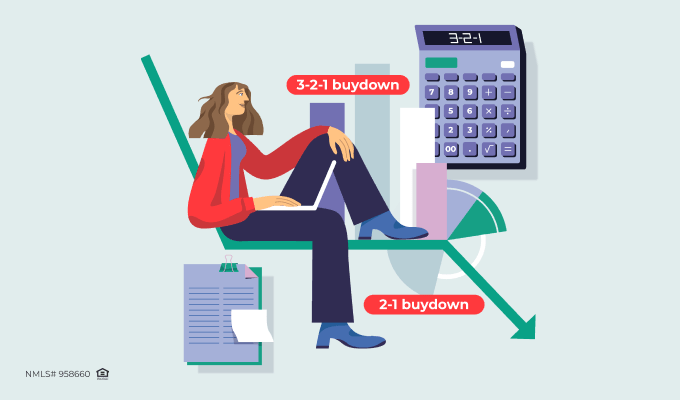 A&D Mortgage has announced the launch of its new temporary rate buydown programs. The new products are designed to provide borrowers with more flexibility when it comes to their home financing options.
Temporary rate buydown plans are a good fit for borrowers who have the capacity for higher earnings within a few years of obtaining a mortgage. Buydown plans allow borrowers to benefit from temporary subsidies of the monthly payment of principal and interest. By offering these products, brokers help borrowers get access to lower initial payments, and the stability of predictable payment increases.
The rate buydowns are available for owner-occupied and second-home Conventional and Non-QM loans, with third-party or seller-paid options as well. A&D Mortgage offers:
3-2-1 buydown: A buydown of 3% in the first year, 2% in the second year, 1% in the third year, then back to the original locked rate in the fourth year for the duration of the term.
2-1 buydown: A buydown of 2% in the first year and 1% in the second year, then back to the original locked rate in the third year for the duration of the term.
"We're excited to offer these new rate buydown products to our customers," said Max Slyusarchuk, CEO and Founder of A&D Mortgage. "By providing a lower interest rate for the first few years of the loan, we can help them save money and build equity more quickly. We're committed to helping our customers succeed, and this is just one more way we can do that."
PROGRAM HIGHLIGHTS
Amortized payments are not affected; but the total difference between the borrower's decreased payment and the fully amortized payment for years 3 or 2 years.
The seller-paid subsidy for the Temporary Buydown is held in an escrow account. A portion of this subsidy is applied to each monthly payment during the buydown period.
• The borrower's decreased payment + monthly subsidy = the amount of the fully amortized payment
LOAN ELIGIBILITY
Borrowers are qualified at the Note Rate (never the bought down rate)
A&D Mortgage will accept seller, employer and third party funded temporary buydowns on purchases ONLY
Buydowns are eligible on FNMA and Non-QM loan products
1-4 Unit primary residence & 1 unit second homes are eligible
Interested party contributions limits apply per program requirements
Buydown funds will be deposited in an escrow account; the Servicer will disburse funds from the escrow account every month to make a complete mortgage payment
For more information on A&D Mortgage's new rate buydown mortgages, visit our Programs today.
As a mortgage broker, your clients rely on your expertise to find them the best deals. Our Quick Pricer tool can be an invaluable asset in your quest to secure the most advantageous mortgage rates. Be sure to explore our Programs section for additional resources tailored to your needs. If you have specific scenarios in mind, don't hesitate to request them; we're here to assist you. And if you're interested in joining forces to provide even more value to your clients, consider becoming a partner with us. Together, we can empower individuals and families to achieve their dreams of homeownership.
Thank you, you're successfully subscribed!
Thank you, you're successfully subscribed!