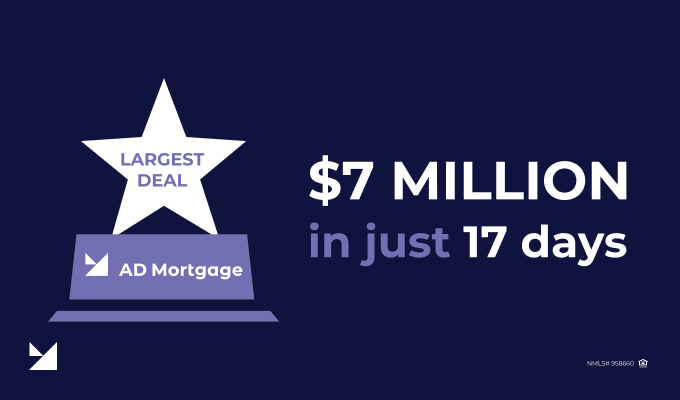 For analysts who are casting a dark cloud over the Non-QM market, A&D Mortgage has found a silver lining for mortgage brokers, recently closing its largest deal in the company's history in record time – $7 million in just 17 days.
Until recently, A&D Mortgage, a leading Non-QM lender based in Hollywood, Florida, capped its maximum loan limits at $4 million. However, in a transaction that closed in July, A&D granted an exception for a company record-setting mortgage of $7 million to a well-known Los Angeles real estate developer.
A&D extended a loan to the borrower for a 7,500 square foot, 6-bedroom, 6-bathroom property in the heart of Beverly Hills. Brokered by Merica Mackey of Mac Mortgage, Inc., the deal was managed inside the lender by Mike Majidian, Wholesale Team Manager for the West Coast.
Mackey indicated the deal originated with another lender who simply could not perform with the speed or efficiency that A&D has done on previous loans she had brokered with Majidian. "I was amazed at how quickly and smoothly things went," said Mackey. "A&D made me look like a hero to my client!"
Why that loan was able to close so quickly, according to Majidian, was because the borrower possessed all the requisite credentials to qualify for such a large Non-QM loan – substantial income, a very high FICO score, and a low LTV. Consequently, A&D's management approved the request within 24 hours and funded the loan in just 17 days!
"Regardless of loan size or status, I've found that A&D strives to offer the same courtesy, respect, and service to all of its borrowers and brokers," said Mackey.
Perhaps the person who is most excited and proudest of the transaction is Max Slyusarchuk, A&D's Founder and CEO.
"This deal is one of the largest loans for A&D Mortgage and one of the most high-profile ones that we've ever done.," he commented. "We were able to close this in just 17 days because of the incredible commitment and teamwork that we have between Sales, Underwriting, Processing, Funding, and Closing."
Thank you, you're successfully subscribed!
Thank you, you're successfully subscribed!