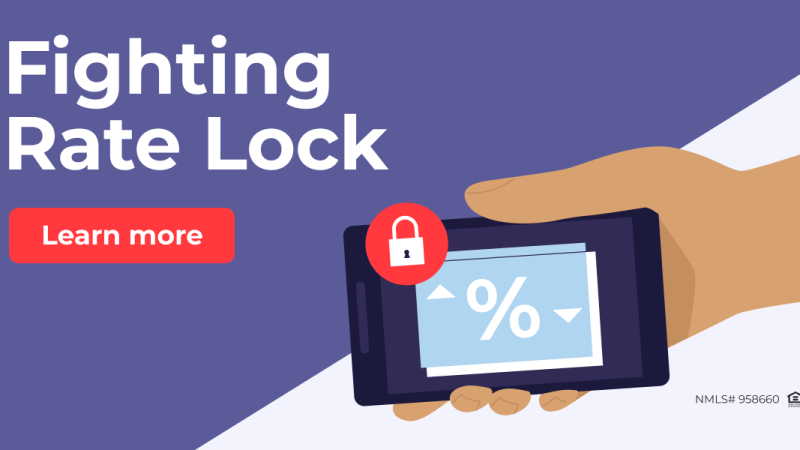 The world of real estate is replete with nuances, complexities, and variables. Among the myriad factors affecting the decision to buy or sell, few have captivated homeowners' minds as intensely as the haunting specter of "rate lock." It's a sentiment that feels all too real—a gnawing fear that they're hopelessly tethered to their current homes due to climbing interest rates. The narrative suggests that selling would inevitably mean relinquishing their enviable low mortgage rate and subsequently grappling with a far more daunting rate upon their next acquisition. But how tangible is this fear? Is it a true financial quagmire or merely an ephemeral ghost of market dynamics? Here, we attempt to demystify the concept of "rate lock," while emphasizing the vital, often overlooked role that mortgage brokers play in guiding homeowners through such concerns.

Decoding "Rate Lock"
To truly appreciate the essence and implications of "rate lock," we must first define it. At its core, "rate lock" is a largely emotional, psychologically-charged response. While there's no denying that interest rates significantly influence monthly payments and the total cost of home loans, they represent just one facet of the multifaceted homeownership experience. Elements such as property taxes, routine maintenance, potential appreciation in property value, and ever-evolving personal and familial needs must also be factored into the equation.
The era of historically low interest rates, especially prevalent in the last decade, has certainly been a windfall for homeowners. But these rates, as attractive as they are, are deviations from the norm—a golden anomaly. Interest rates, by their inherent nature, are influenced by a myriad of economic variables and are destined to fluctuate. A decision rooted solely in the pursuit of retaining low rates can distort a homeowner's holistic understanding, potentially causing them to sideline more pressing and overarching financial concerns.
Mortgage Brokers: The Guiding Lights
Often operating behind the scenes, yet pivotal in every successful real estate transition, mortgage brokers stand as the true champions for homeowners navigating the sometimes-turbulent waters of mortgages. Their role in addressing and alleviating "rate lock" apprehensions is multifaceted:
Unparalleled Expertise: Far from being mere transactional intermediaries, mortgage brokers are reservoirs of industry knowledge. With their finger perpetually on the pulse of lending trends, they possess an intrinsic understanding of interest rate dynamics. Their insights can offer homeowners a measured and realistic appraisal of prevailing market conditions.
Diverse Portfolio of Choices: Mortgage brokers aren't tied to singular loan products. Their expertise spans a wide spectrum of lending avenues. Whether it's the world of refinancing, the potential appeal of adjustable-rate mortgages, or the predictability of fixed rates, brokers serve as gateways to diverse financing pathways. Their ability to compare and contrast products ensures that homeowners are never confined to limited options.
Customized Solutions: Every homeowner's story is distinct, marked by individual financial trajectories, aspirations, and apprehensions. Recognizing this diversity, brokers craft bespoke mortgage solutions. These are not one-size-fits-all recommendations but tailor-made strategies sculpted to align with individual profiles.
Holistic Financial Analysis: Mortgage brokers provide more than mere rate comparisons. Their analyses delve deep, juxtaposing the allure of current low-interest rates against a plethora of other considerations. From weighing the equity already nurtured in a home to gauging potential market appreciations or discerning the latent financial benefits of strategic moves like downsizing, brokers offer a panoramic financial perspective.
Negotiating Power Amplified: Mortgage brokers, with their expansive industry networks and established rapport with lenders, possess a unique negotiating prowess. This allows them, in many instances, to secure favorable deal terms or rates, providing an edge to clients concerned about future market rate hikes.
Charting the Course Beyond Rate Apprehensions
Homeownership, in its essence, extends beyond the confines of financial metrics. Homes are sanctuaries, repositories of cherished memories, markers of personal milestones, and platforms for life's myriad transitions. As life unfolds, myriad circumstances evolve: families burgeon, career trajectories shift, personal aspirations grow, and lifestyle desires transform.
Looking for a suitable loan program?
Choose among 20+ programs and get a detailed loan calculation
Loan Calculator
Programs
Consequently, the decision to transition homes should be a product of comprehensive contemplation. It should resonate with life's larger tapestry and not be solely tethered to the fluctuations of interest rates.
In mortgage brokers, homeowners find trusted allies—professionals equipped to dispel myths, clarify complexities, and illuminate the path forward. Through their expertise, homeowners can transition from a state of rate-centric apprehension to a position of empowerment. By aligning with their counsel, homeowners are better poised to make decisions congruent with their broader life goals, ensuring that they're not just buying houses, but curating homes that truly resonate with their life's narrative.

As a mortgage broker, your clients rely on your expertise to find them the best deals. Our Quick Pricer tool can be an invaluable asset in your quest to secure the most advantageous mortgage rates. Be sure to explore our Programs section for additional resources tailored to your needs. If you have specific scenarios in mind, don't hesitate to request them; we're here to assist you. And if you're interested in joining forces to provide even more value to your clients, consider becoming a partner with us. Together, we can empower individuals and families to achieve their dreams of homeownership.
Thank you, you're successfully subscribed!
Thank you, you're successfully subscribed!