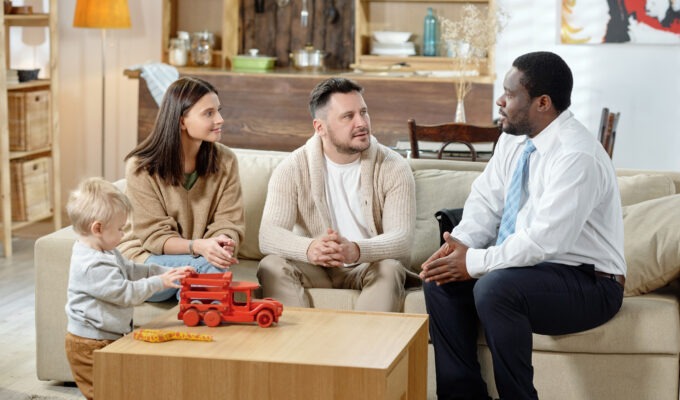 For many homebuyers, a mortgage is the one thing that can ensure their candidacy for the best home to raise a family in, grow old in, and live the rest of their life. However, some borrowers don't match the financial profile of most traditional clients. These include self-employed individuals, nonpermanent residents, and people who have yet to develop credit.
Because they can't prove that they earn money in the usual way, such as by providing a W2, these borrowers are more likely to be denied a mortgage. Being rejected can be due to their unique circumstances, making it harder for them to meet the standards required for a traditional mortgage. NerdWallet wrote that in 2019, roughly 8% of mortgages for site-built single-family homes were rejected. Enter Non-QMs!
Non-QM Loans Can Help Borrowers Purchase a New Home
Statistics like that are among the more challenging parts of being a broker. The good news is that this doesn't mean that borrowers are locked out of affording a home forever. There are ways that brokers can accommodate borrowers to make sure they secure a mortgage that suits their financial situation and gets them into a great home.
One viable method is through partnering with a lender that offers Non-QM loans. Non-QM loans allow borrowers to secure a mortgage by providing alternative sources for proof of income, providing alternative assets to raise the amount they could qualify for, and accepting borrowers who may have less than perfect credit.


Offer Borrowers Variety with Non-QM Loans
None of your clients' financial situations are the same because none of their experiences are the same. So why should you offer them products that treat them as if they were? One of the best ways brokers can accommodate nontraditional borrowers is by providing products that accommodate their unique monetary needs and desires. Some of the best Non-QM loan programs available support the requirements of such borrowers.
For example, a DSCR mortgage lets borrowers prove their earnings by calculating their debt service coverage ratio, which is perfect for a contractor who doesn't have earnings recorded on a W2. A 12/24 Month Bank Statement loan lets borrowers provide information on their income by offering their bank statements, which suits freelancers well.
Brokers have historically shied away from Non-QMs because they're believed to be preferred by unethical underwriters and come with a higher-than-average level of risk. However, more and more lenders enter the Non-QM market, providing proof of the Non-QM market's stability and demand. The reality is that Non-QM mortgage loans fall outside of conforming limits and therefore are not guaranteed by the government. However, Non-QM lenders are still required to meet regulations set forth by the Consumer Financial Protection Bureau (CFPB) and borrowers still need to qualify for a Non-QM mortgage based on the loan terms set forth by the lender.
Non-QM mortgage lenders have flexibility in establishing loan terms and do so while also managing risk. Increased flexibility means that Non-QM alternative income type verification, such as Asset Utilization and WVOE / 1099, can help borrowers who fall outside of conventional limits still secure a mortgage loan. That's what makes Non-QM loans so valuable to nonconventional borrowers.
Non-QM Loans Needn't be Complicated
As a mortgage broker, you're experienced in understanding what loan terms mean and how to find the best product for your client. However, some borrowers may have unique financial needs that they want to accommodate or may not even know what they need.
That's why as a broker, you want to ensure your client understands what you're explaining to them when it comes to Non-QM loans. Brokers know that what a client needs can differ for each client.
For example, an individual who has been freelancing for about two years, hasn't separated their business bank account from their personal account, and may have generated some less than perfect credit will have needs that are different from a recent immigrant to the country who may not have developed a lot of income yet, but is interested in levying some other assets of theirs to increase the amount that they qualify. When thinking of potential ways to assist your borrowers, consider their age, funds, level of financial knowledge, and experience with mortgages.
You might also want to consider your borrowers' monetary situation, the level of detail in the records they keep, and potential pitfalls that could delay or prevent them from getting a mortgage, such as filing taxes incorrectly or lacking documentation.


Team Up with Non-QM Mortgage Lenders
Even the best Non-QMs loans can be unfamiliar to experienced brokers, which makes securing them a confusing process for many. However, when you partner with the right Non-QM mortgage lender, they'll be able to help you every step of the way. They'll have the experience and background needed to navigate the complexities that a Non-QM product can offer, which you can use to support your career as a broker.
Furthermore, the company can provide resources for you based on the kind of mortgages it provides. This support can range from providing documentation to hands-on assistance. You'll get satisfying work in helping your borrowers who have trouble getting mortgages secure the best Non-QM loan that suits the particulars of their situation.
A&D Mortgage Is Here to Help
One of the most important decisions that a broker can make is deciding which mortgage company to partner with. That's because working with Non-QMs can be rewarding, but it can be just as confusing to the uninitiated. That's why you want to partner with a mortgage company that specializes in Non-QM mortgage products.
When deciding which one to go with, go with the company with years of experience in providing Non-QM loans to clients. A&D Mortgage has nearly two decades of experience in helping brokers help borrowers secure a mortgage loan.
We're a full-service lender that offers residential and commercial mortgages throughout the U.S. We also specialize in Non-QM loans, making it easier to allow those who don't qualify for a traditional mortgage to secure the home of their dreams.
Our concierge service makes quick work of the documentation that you provide them and can answer questions or provide support with anything that you might need when you're with us. Learn more about how we can help you be the most robust mortgage broker you can be.
See how we can help you here, or call us at 1-305-760-7000 to learn more about working with us today!
Thank you, you're successfully subscribed!
Thank you, you're successfully subscribed!