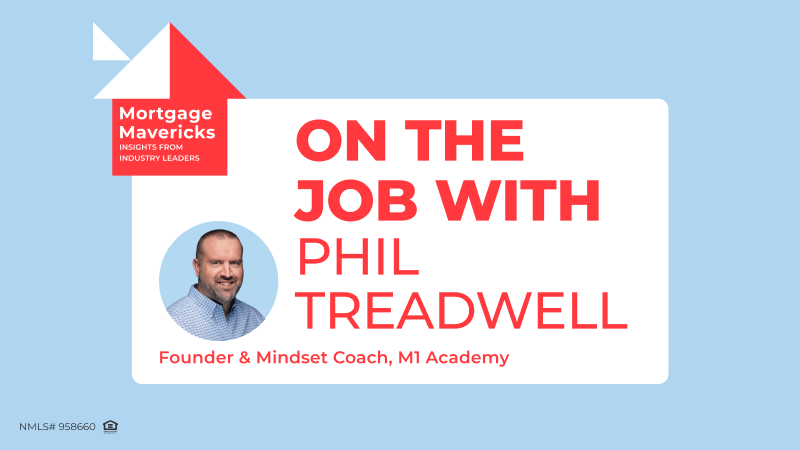 In this series, we sit down with prominent individuals in the mortgage industry to glean invaluable insights and perspectives. From renowned lenders and brokers to influential regulators and industry experts, we dive deep into their experiences, strategies, and visions for the future. Join us as we uncover the secrets of success, explore emerging trends, and gain expert advice from these mortgage mavens. Our latest interview is with Phil Treadwell, Founder of M1 Academy a Mindset Coach, and host of the Mortgage Marketing Expert podcast.
ABOUT PHIL TREADWELL
Phil Treadwell is a National Speaker and the Founder of M1 Academy, which was named one of the Top 10 Mortgage Coaching Programs in 2023. He is also the Host the Mortgage Marketing Expert podcast, which is widely recognized as one of the top podcasts in the mortgage & real estate industry.
Phil was named one of the 40 Most Influential Mortgage Professionals Under 40 in 2019 by National Mortgage Professional Magazine, and he was also named one of their Most Connected Mortgage Professionals in 2021 & 2022. Yahoo! Finance listed him of the Top 20 Mortgage Professionals in 2020. He has been an expert speaker at dozens of events & over 100 other podcasts, and he regularly collaborates with industry thought leaders across the country.
Looking for a suitable loan program?
Choose among 20+ programs and get a detailed loan calculation
Loan Calculator
Programs
Carl: Phil, you have an impressive background with over 18 years of experience in the mortgage and real estate industry. Can you share some pivotal moments in your career that have shaped your journey and led you to where you are today?
Phil: Over the last 19 years of my mortgage career, the most pivotal moments have come from mistakes that I've made and failures that I've had. We're taught growing up in school that failure is the opposite of success, but in the real world, those failures are actually a big part of our path to success. The times when things didn't go right, and I wasn't successful in pursuing my goal, were the times that I was able to learn the most. Those lessons were far more valuable in driving my career forward than the times that things turned out exactly like I planned for them to.
Carl: The Mortgage Marketing Expert podcast has gained significant recognition in the industry. Could you tell us what inspired you to start the podcast, and what are some key takeaways that your listeners have found most valuable from your interviews with industry experts?
Phil: The original mission of the podcast was simply to help mortgage professionals "do mortgage marketing better". At the time I launched the podcast in early 2018, most people in the industry hadn't adopted some of the most effective and efficient ways to generate business. The key takeaways that I want listeners to get from the episodes are that we can always do better. We try hard to outline tactics, mindset, and strategies that the audience can implement in their business to achieve their goals.
Carl: As a business mindset coach and the founder of M1 Academy, you focus on helping professionals develop a modern and relevant business mindset. What are some key principles or strategies that you advocate for to achieve success in the mortgage and real estate industry?
Phil: The Core 4 principles we focus on with M1 Academy are Mindset, Habits, Message, and Vision. We help our members build a strong foundation of why they do what they do, what their unique value is, what the big goals are that they want to achieve, and what are the daily disciplines and action steps that are going to get them there. Once we have that foundation, it becomes very easy to layer on the tactical pieces that take their lives and business to the next level.
Carl: You've been recognized as one of the "40 Most Influential Mortgage Professionals Under 40" and as one of the "Most Connected Mortgage Professionals" for multiple years. What do you believe sets you apart and has contributed to your influential presence in the industry?
Phil: I don't think there is a super special thing that sets me apart from other people in the business. I believe I've worked very hard throughout my career to learn from the best of the best in our industry. I also found ways to build friendships and relationships with those people, and add value to them anywhere I could. I learned a long time ago that you have to find people that are where you want to be in life, and then find ways to get around them and learn how they got there. That's been something I've really focused on.
Carl: The mortgage and real estate industries have seen significant changes and challenges over the years. What do you see as the most important trends and shifts that professionals in these fields should be aware of and adapt to in the coming years?
Phil: The biggest shift I'm seeing is the level of effort it takes to achieve success in the mortgage and real estate business. We saw a couple of years where it was a lot easier to capture business and grow, and things aren't like that anymore. However, there are opportunities in every market environment. The people who are having success right now, and we have a lot of them in M1 Academy, are focused on finding those opportunities and taking massive action to capture them.  
Carl: Collaboration with industry thought leaders is a significant aspect of your work. Can you share some memorable insights or lessons you've learned through these collaborations that have impacted your approach to business and leadership?
Phil: I have always had an abundance mentality when it comes to collaborating with people in the industry. There is plenty of business out there for anyone willing to do the work. I never saw people as competition, but rather someone else who was working toward the same goal in the same industry. Whether it was doing a podcast, recording videos, or doing a joint event with someone, I always learned something through it. And as a side benefit, created some of the best friendships and business partnerships I have to this day.
Carl: You've spoken at numerous events and been a guest on over 100 podcasts and social media shows. Are there specific topics or themes that you're particularly passionate about sharing with your audience during these appearances?
Phil: Mindset is the most important thing that I talk about. Mindset isn't the only thing, but it does need to come first. That's why I created M1 Academy. M1 stands for Mindset 1st. Someone who has perfect tactical execution, but is coming from a negative or scarcity mindset, will never get the results of someone with imperfect tactics but has a positive growth mindset. So regardless of whether the topic that I'm speaking on is podcasting, personal branding, lead generation, business planning, or social media marketing, mindset is always an underlying theme. 
Carl: The Mortgage Marketing Expert podcast often ranks in the Top 200 on Apple Podcasts in the Business > Marketing category. What strategies do you employ to maintain consistent podcast success, and what advice would you offer to aspiring podcasters?
Phil: I was fortunate to be one of the first podcasts in the mortgage space and was even more fortunate to have quite a few guests who were very influential in the mortgage space. That helped create a lot of attention and listeners early on. Every month since then we have focused on putting out episodes every single month and discussing topics that are relevant to mortgage and real estate professionals. My biggest piece of advice to anyone who has, or wants to do, a podcast is to stay consistent. It's not something you can just do for a few months and expect to see results. Like success with anything else, it takes consistent and persistent effort over time. 
Carl: In your journey as an entrepreneur, what have been the most challenging aspects of building your own brand and business, and how did you overcome those challenges?
Phil: The biggest challenges with creating a brand and building a business are always around staying consistent with the action habits. I know I've said that a couple of times in my answers, but it really is one of the biggest keys to success. There are always going to be things that go right and things that go wrong, but the answer is to keep working. We learn everything we need to know when we take action and stick with it. The way I've overcome nearly all of my adversity is outwork them, and to always seek out a strong coach and mentor who can take their experience and impart it to me as wisdom. 
Carl: Finally, what's next for Phil Treadwell and M1 Academy? Are there any exciting projects, goals, or initiatives on the horizon that you'd like to share with our readers?
Phil: We are adding a new Performance Coaching program to M1 Academy that will launch January 1, 2024, and this program will definitely help mortgage pros take their business to the next level. This is group coaching program that will replace our existing Premium group coaching and come alongside our Elite 1-on-1 Coaching program. I'm also starting a second podcast about success principles of top performers that will have some of the most recognizable names in business and entrepreneurship as guests. It will also launch in January 2024.
As a mortgage broker, your clients rely on your expertise to find them the best deals. Our Quick Pricer tool can be an invaluable asset in your quest to secure the most advantageous mortgage rates. Be sure to explore our Programs section for additional resources tailored to your needs. If you have specific scenarios in mind, don't hesitate to request them; we're here to assist you. And if you're interested in joining forces to provide even more value to your clients, consider becoming a partner with us. Together, we can empower individuals and families to achieve their dreams of homeownership.
Upcoming Webinars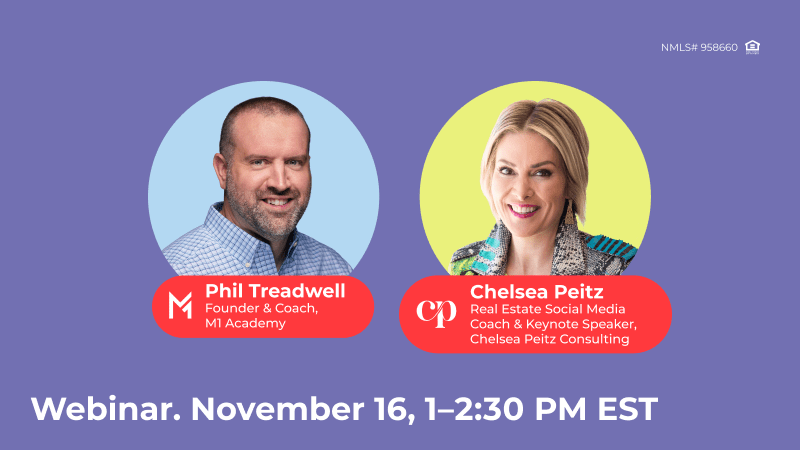 November 16 @ 1:00 pm EST
Crafting Your Mortgage Broker Brand and Dominating Social Media
Online
Unlock the power of your mortgage broker brand and conquer social media with this dynamic webinar! Join industry experts Phil Treadwell (LinkedIn: https://www.linkedin.com/in/philtreadwell/) and Chelsea Pietz (Website: https://www.chelseapeitz.com/) as they guide you through crafting an impactful brand identity and mastering the right social media platforms. Gain actionable insights to stand out in a competitive landscape and engage your audience effectively. Don't miss this opportunity to transform your online presence and take your mortgage business to new heights. Reserve your spot now!
Register
Thank you, you're successfully subscribed!
Thank you, you're successfully subscribed!