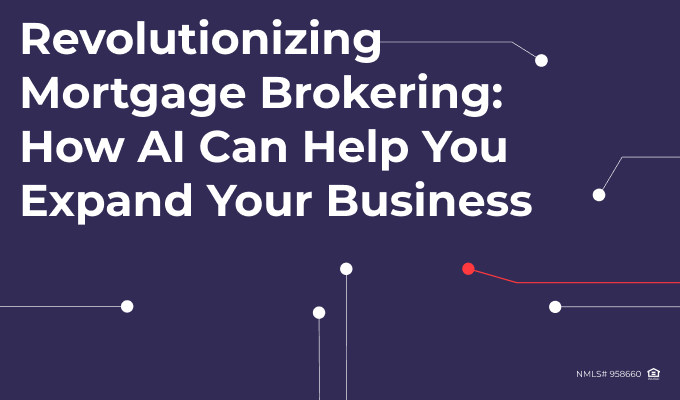 Dive into the dynamic realm of mortgage brokering, where being a front-runner is more vital than ever. As technology races ahead, it's time for mortgage brokers to embrace the trailblazing innovations that artificial intelligence (AI) brings to the table. Discover the astounding possibilities AI offers, transforming the mortgage brokering landscape – from elevating customer service experiences to turbocharging productivity. Are you ready to harness the power of AI and revolutionize the way you conduct business?
Streamlining Application Processes
The integration of AI-powered software in the mortgage industry has set the stage for an unprecedented revolution in the way brokers conduct their business. By streamlining application processes, these cutting-edge solutions empower mortgage brokers to delve into vast quantities of data with remarkable precision and agility.
Consequently, the time-consuming task of manual application assessment becomes a thing of the past, as AI efficiently processes innumerable applications in a fraction of the time. Furthermore, the advanced algorithms embedded within these systems enable brokers to unearth intricate patterns in the gathered data. These insights facilitate a more accurate identification of potential borrowers, who exhibit a greater likelihood of defaulting on their loans or possessing a riskier financial profile.
Armed with this critical information, mortgage brokers are in a position to make astute decisions regarding the approval or rejection of applications, ultimately bolstering the success and expansion of their business.
Enhancing Customer Service
In the fast-paced, competitive landscape of today's market, the significance of exceptional customer service cannot be overstated when it comes to retaining existing clientele and attracting new prospects. AI chatbots have made remarkable strides in this regard, serving as indispensable instruments in providing real-time, bespoke support for potential borrowers.
By integrating chatbots, businesses can tackle a wide range of inquiries, from addressing frequently asked questions to shepherding customers through application processes, ensuring streamlined assistance at every stage. Additionally, AI-driven tools perform a crucial role in obtaining invaluable feedback from clients.
However, the capabilities of AI extend beyond chatbots; it also lends itself to dissecting customer behavior patterns and creating tailor-made experiences. Utilizing this data enables brokers to distribute well-targeted marketing communications, offer pertinent services, and, ultimately, predict their clients' requirements with remarkable precision.
The future of customer service is undoubtedly shaped by groundbreaking advancements in AI technology.
Optimizing Positive Marketing
Mortgage brokers have a unique opportunity to leverage artificial intelligence to enhance their marketing initiatives, leading to increased client engagement and growth. By utilizing AI algorithms to analyze customer data, brokers can discern their prime target demographic and establish the most effective channels to communicate their services. This targeted approach streamlines marketing efforts and ensures that promotional resources are strategically directed to garner the best possible outcome.
Furthermore, AI-driven marketing platforms empower brokers with the ability to craft captivating, tailor-made content that truly resonates with their audience. In doing so, these professionals can expect to boost their lead conversion rates and secure a higher number of clients. By embracing the potential of AI technology, mortgage brokers effectively position themselves at the forefront of an increasingly competitive industry.
Improving Loan Portfolios and Risk Management
Navigating the intricate landscape of lending can be a daunting task for mortgage brokers, as it is laden with potential risks that can adversely impact their financial stability and success. Effective risk management is essential in safeguarding their reputation and business performance. Fortunately, with the advent of artificial intelligence, brokers can now benefit from advanced monitoring and evaluation tools that keep a close eye on various market indicators. This ultimately helps pinpoint the factors that may influence loan performance, interest rates, and overall financial balance.
By leveraging the capabilities of AI, mortgage brokers can gain invaluable insights and cultivate well-informed decisions, allowing them to adeptly structure their loan portfolios and remain resilient in the face of market fluctuations. Thus, artificial intelligence serves as a vital ally in sustaining a prosperous and secure lending enterprise in today's rapidly evolving financial landscape.
Enhancing Productivity and Efficiency
The remarkable capabilities of artificial intelligence continue to transform various industries, with a key component being its ability to swiftly and precisely process massive amounts of data. In the realm of document processing and management of intricate data sets, AI stands as a true catalyst for change. Brokers, in particular, can substantially bolster their productivity and efficiency by entrusting labor-intensive tasks such as data entry, document verification, and contract analysis to AI-powered solutions.
The automation of these responsibilities allows brokers to dedicate more attention to high-value undertakings and business growth, encompassing the establishment of new partnerships, expanding networks, and cultivating a larger and more diverse client base. The implementation of AI, therefore, serves not only as a technological advancement but also as an invaluable asset to professionals striving to excel in their respective fields.
Data-driven Decision Making
In today's rapidly evolving real estate landscape, mortgage brokers have a powerful ally in artificial intelligence (AI), which offers unprecedented insights into borrowers' behavior, preferences, and patterns. By leveraging these valuable data points, brokers can make informed decisions that not only enhance their business offerings but also give them a competitive edge.
For instance, AI's ability to reveal the types of properties that prospective buyers are most likely to purchase in a specific area allows brokers to customize their advice and recommendations to fit the unique needs of each client. This level of personalized service not only sets brokers apart from their competition but also solidifies their reputation as industry leaders, reinforcing their advisory capabilities in the eyes of both clients and colleagues alike. By embracing AI-driven data analysis, mortgage brokers can confidently navigate the complexities of the real estate market and forge lasting relationships with discerning clients who demand the very best in professional guidance.
Conclusion:
The potential of AI in the mortgage brokering business is vast and constantly evolving. By harnessing its capabilities in streamlining application processes, enhancing customer service, optimizing marketing efforts, improving risk management, and increasing productivity, mortgage brokers can set themselves apart from their competitors and expand their businesses in new and innovative ways. As we continue to see the AI revolution unfold, mortgage brokers who embrace this technology will be better positioned for success in the dynamic and competitive world of mortgage lending.
As a mortgage broker, your clients rely on your expertise to find them the best deals. Our Quick Pricer tool can be an invaluable asset in your quest to secure the most advantageous mortgage rates. Be sure to explore our Programs section for additional resources tailored to your needs. If you have specific scenarios in mind, don't hesitate to request them; we're here to assist you. And if you're interested in joining forces to provide even more value to your clients, consider becoming a partner with us. Together, we can empower individuals and families to achieve their dreams of homeownership.
Find out more during our upcoming webinar on the topic:
Expert Insights: Using AI to Supercharge Your Mortgage Business
May 23, 2023 @ 1 PM EST
Want to gain a competitive edge in a crowded marketplace? Discover how Artificial Intelligence (AI) can automate routine tasks, analyze data, and provide personalized recommendations in the mortgage industry. Our expert panelists will share practical tips on how to integrate AI into your business operations and measure success. Don't miss this opportunity to learn from the pros and unlock the power of AI for your mortgage broker business. Sign up today!
Thank you, you're successfully subscribed!
Thank you, you're successfully subscribed!