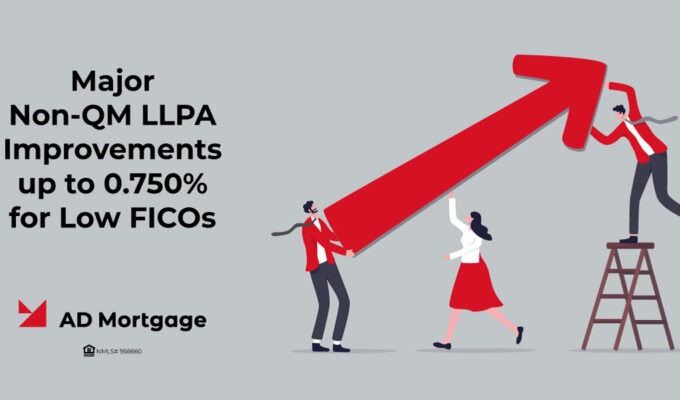 We know that times are getting tougher for your clients – gas prices are rising, inflation is affecting everything, home prices keep soaring to record-highs, and there are fewer new or existing homes to buy.
A&D Mortgage is announcing pricing adjustments that could improve rates up to 0.750% on our Non-QM loan solutions which could make them a better option for those borrowers with FICOs between 580 and 700.*
These loan-level pricing adjustments affect the following programs:
Full Doc
12-24 Month Bank Statements
1-Year and 2-Year Profit & Loss
WVOE/1099
Asset Utilization
Non-Permanent Resident
Foreign Nationals
DISCLAIMER: Actual loan-level price adjustments (LLPA) are based on a combination of your borrower's FICO and the property's Loan-to-Value, so the actual rate may vary. These changes affect new submissions after May 4, 2022. Contact your Account Executive for additional details and consult our Daily Rate Sheets for the actual per program LLPAs. This offer is subject to change at any time.
Thank you, you're successfully subscribed!
Thank you, you're successfully subscribed!