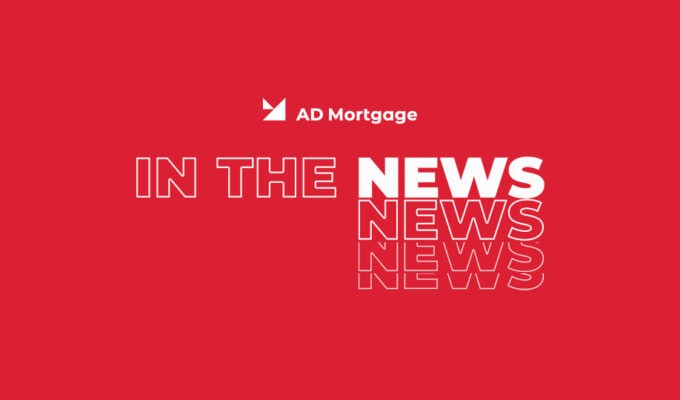 We are excited to share that A&D Mortgage and its affiliate, Imperial Fund, have seen their names in the news over the past few weeks. 
The reputable mortgage industry site, Mortgage News Daily, took time to highlight the modifications that A&D Mortgage made to our FHA, FHA Streamline, and Jumbo Prime program, and Debtwire wrote about Imperial Fund's rapid re-entry into the non-QM-RMBS market. 
It's not just announcements – the smart broker knows it's the ultimate proof that borrowers are borrowing in this economy. For brokers looking for their next opportunity, it's music to their ears. 
Mortgage News Daily Reports on Recent A&D Mortgage Loan Updates
When Mortgage News Daily talked about the changes that A&D Mortgage made to three of our programs, it shed some light on some impressive numbers. For example, our FHA program has a new minimum FICO score of 620, 640 for a New Jersey or New York 3–4-unit property, and a debt-to-income ratio of up to 55%, and our FHA Streamline program sports a new minimum FICO score of 640, with a verbal verification of employment required, as well.  
A&D Mortgage Launched New Prime Jumbo Loan Product
Mortgage News Daily also brought our new Prime Jumbo program – it's available for 30-year fixed loans and can run DU Approved/Ineligible due to high loan amount. Not only that, but it also has a cash-out of over 80% LTV only. Those numbers are highly appealing if you're a borrower, and maybe even more so if you're a broker looking for such a loan for your borrowers. As an AUS only loan product, our Prime Jumbo program is unique.  


Debtwire Shares Insights into 
Mortgage Loan Industry Post COVID-19 
This past March, Debtwire ran an article about Imperial Fund's return to the non-QM-RMBS market. Of note within the article was how quickly Imperial returned to the non-QM-RMBS market and its relationship with A&D Mortgage. For context, non-QMs, which are usually utilized for those in nontraditional roles such as freelancers, independent contractors, and self-employed workers, were hit especially hard during the early months of the COVID-19 pandemic, when those borrowers found themselves unable to pay their mortgages or had to put their plans to get one on hold. The fact that Imperial was able to return to non-QMs in March of 2021 speaks not only to the strength of the current market, but to Imperial Fund's strength, too. Read the full piece here. 
Struggling with a loan scenario? Get a solution in 30 minutes!
Fill out the short form and get your personal offer
Submit Scenario
We Are Here to Support Mortgage Brokers & Their Borrowers
The bottom line is that A&D Mortgage is not only working to provide brokers with several mortgage loan options for their borrowers, even with less-than-perfect credit, but to also provide brokers the tools needed for success. With some of the lowest rates in the industry, a multitude of non-QM offerings tailored for various income types, and roughly 16 years in the industry, A&D Mortgage has dominated the field, and we're ready to help you succeed, too.  
Click here to learn how you can become a broker with us. 
As a mortgage broker, your clients rely on your expertise to find them the best deals. Our Quick Pricer tool can be an invaluable asset in your quest to secure the most advantageous mortgage rates. Be sure to explore our Programs section for additional resources tailored to your needs. If you have specific scenarios in mind, don't hesitate to request them; we're here to assist you. And if you're interested in joining forces to provide even more value to your clients, consider becoming a partner with us. Together, we can empower individuals and families to achieve their dreams of homeownership.
Thank you, you're successfully subscribed!
Thank you, you're successfully subscribed!