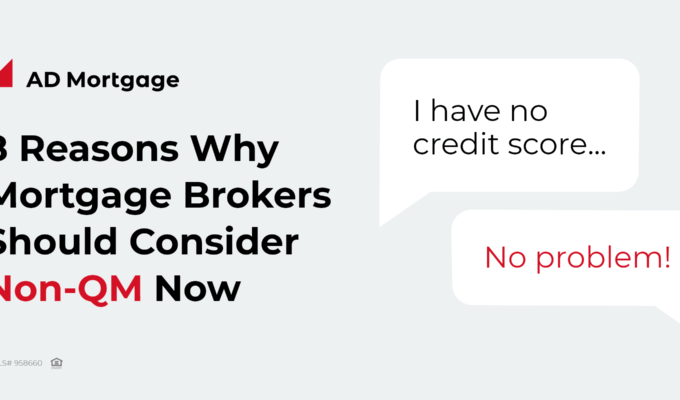 LEARN MORE ABOUT OUR NON-QM PROGRAMS
There are many advantages to Non-QM mortgages still. For one, non-qualified mortgage loans are great for clients working with mortgage brokers. Mortgage brokers can offer borrowers a wide range of loan products and get the best interest rates for their clients. They can also work with self-employed borrowers who may have difficulty qualifying for a traditional mortgage. In this article, we will discuss some of the main advantages of Non-QM mortgages as of July 2022.
Non-QM mortgages are a type of mortgage that allows borrowers to get a loan without having to provide extensive documentation or meeting traditional income qualifications.
Now more than ever, here are eight great reasons your clients might want to consider a Non-QM mortgage:
Self-employed? No problem! If your client is self-employed, you know that it can be difficult to qualify them for a traditional mortgage. Non-QM lenders like A&D Mortgage are more flexible when it comes to income documentation, so self-employed borrowers can qualify for a loan.
Credit score? No problem! – If your clients have less than perfect credit, they may still be able to qualify for a Non-QM mortgage. Some lenders offer loans to borrowers with a credit score as low as 580, such as our Prime program.
No income verification required– If your clients don't have W-2 incomes, we may still offer them a loan. This is because Non-QM loans are not restricted by the Qualified Mortgage guidelines that require borrowers to verify their income.
Higher loan amounts up to $5 million– If your clients are looking to finance a high-end home, they may be able to get a loan for up to $5 million. This is because Non-QM loans are not restricted by the Qualified Mortgage limit of $625,500.
Loan terms to fit your needs– Non-QM loans can have terms that fit your borrowers' unique financial situations. If they need a longer loan term or want to make interest-only payments, you may be able to find a Non-QM loan that meets your needs.
Fast funding – Non-QM loans can often be funded faster than traditional loans. This is because the underwriting process is often quicker and there is less documentation required.
No DTI requirements– There are no debt-to-income ratio requirements with some Non-QM loans, so your client can qualify even if their DTI is high.
Lenient seasoning guidelines -With some traditional loans, your clients may need to wait 12 months after a major financial event before they can qualify. With Non-QM loans, this waiting period is often shorter or even non-existent.
Looking for a suitable loan program?
Choose among 20+ programs and get a detailed loan calculation
Loan Calculator
Programs
As you can see, there are many advantages to Non-QM mortgages as of August 2022. If you're looking for a loan that is tailored to your needs, a Non-QM mortgage may be the right choice for you.
Fortunately, A&D Mortgage has been offering Non-QM loans since the mid-2000s, so we have the experience and knowledge to help you navigate this type of loan. If you're interested in learning more about Non-QM loans or our other loan programs, contact your account executive today. We're here to help you find the right loan for your needs.
As a mortgage broker, your clients rely on your expertise to find them the best deals. Our Quick Pricer tool can be an invaluable asset in your quest to secure the most advantageous mortgage rates. Be sure to explore our Programs section for additional resources tailored to your needs. If you have specific scenarios in mind, don't hesitate to request them; we're here to assist you. And if you're interested in joining forces to provide even more value to your clients, consider becoming a partner with us. Together, we can empower individuals and families to achieve their dreams of homeownership.
Thank you, you're successfully subscribed!
Thank you, you're successfully subscribed!