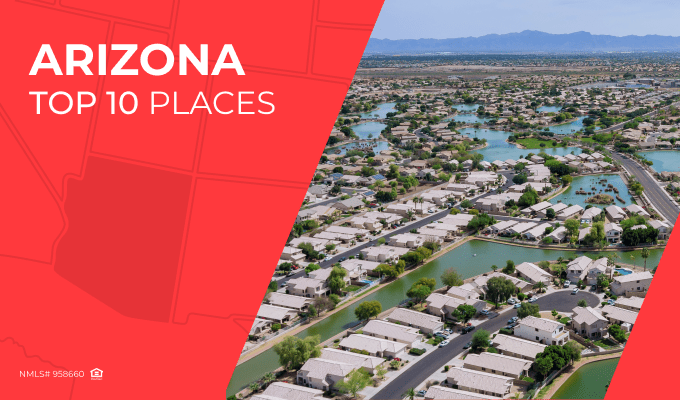 Arizona has a lot to offer. Within its borders are incredibly diverse environments –from lowland deserts to spectacular mountain ranges. Add in a dry, sunny climate, a distinctive regional cuisine, boundless outdoor recreation, and an impressive array of cultural experiences, and one can begin to understand why so many people are moving to Arizona.
Struggling with a loan scenario? Get a solution in 30 minutes!
Fill out the short form and get your personal offer
Submit Scenario
However, if your clients are on a budget, check out our 10 Most Affordable Places to Live in the Grand Canyon State.
10. Avondale
Located just 30 minutes from Phoenix, Avondale is a charming suburban community in Maricopa County. It is well-known for a variety of sporting activities, including two annual NASCAR events at the popular Phoenix Raceway. It also boasts an 83,000-square-foot indoor sports complex where people of all ages gather to play soccer, basketball, and volleyball, making Avondale a fun and affordable place to live.
9. Tucson
Though one of the largest cities in Arizona, Tucson is still surprisingly affordable. It is home to an array of cultural institutions and experiences, including historical museums, botanical gardens, an observatory, and Old Tucson, which is known for its Wild West Days and rodeos. Even better, the cost of living in Tucson is nearly 10% lower than the national average.
8. Coolidge
Coolidge is a small city in Pinal County, about an hour's drive southeast of Phoenix. Coolidge is perhaps best known for its Casa Grande ruins, a multi-story adobe building dating back to the 14th century. Other Coolidge attractions include a 3-day festival called Cotton Days which celebrates the city's main crop.
7. Phoenix
Phoenix offers all the amenities you'd expect from a big city but without the big city prices. Known for its year-round sun and warm desert climate, Phoenix boasts exclusive spa resorts, magnificent golf courses, and abundant outdoor recreation. Recently, Phoenix was also named the 13th most affordable city in the country.
6. Mesa
Mesa is the 3rd largest city in Arizona and is located just 25 minutes from Phoenix. Surrounded by the natural beauty of the Sonoran Desert and Tonto National Forest, Mesa is the ultimate recreational playground. It also features an art museum, steamboat cruises, an equestrian center, and an olive mill. Best of all, Mesa has a strong economy and an affordable housing market.
5. Glendale
Home to a world-class sports stadium, Glendale is just a short 20-minute drive to Phoenix. The city features an historic downtown shopping district with brick-lined streets. It also boasts first-rate golf courses, a toy museum, and a prominent safari park. With all these amenities, one might think that Glendale is an expensive place to live. In fact, just the opposite is true.
4. Yuma
Yuma is a small city located in the southwest corner of Arizona. Known as the "Sunniest City on Earth", Yuma promises sunshine and warm weather at least 91% of the year. Yuma's weather also makes it an agricultural powerhouse, growing over 175 types of crops. Best of all, homes in the Yuma area are nearly $75,000 less than the national average.
3. Sierra Vista
Sierra Vista is a city in Cochise County, about a 90 minute drive southeast of Tucson. Surrounded by towering mountains and a temperate four-season climate, Sierra Vista offers clear skies, picturesque views, and world-class birding. In fact, Sierra Vista is known as the "Hummingbird Capital of the World." Also, the cost of living in Sierra Vista is very affordable.
2. Golden Valley
Golden Valley is a small sleepy town in Mojave County that enjoys a quiet pace of life. Still, it is just 90 minutes to Las Vegas. Golden Valley enjoys beautiful foothills, extensive hiking trails, and perhaps it's best known for Santa's Land, a Christmas-themed ghost town. In addition, Golden Valley is extremely affordable.
Looking for a suitable loan program?
Choose among 20+ programs and get a detailed loan calculation
Loan Calculator
Programs
1. New Kingman-Butler
At the top of our list is New Kingman-Butler, the most affordable city in Arizona. Although this is a small town, it borders Kingman, which has a larger population and more amenities. Just a short drive away, there are breweries, wineries, golf courses, and beautiful parks. There are also several museums and an historic train depot. If affordable housing is a primary concern, make sure to explore New Kingman-Butler.
As a mortgage broker, your clients rely on your expertise to find them the best deals in these top 10 affordable cities. Our Quick Pricer tool can be an invaluable asset in your quest to secure the most advantageous mortgage rates. Be sure to explore our Programs section for additional resources tailored to your needs. If you have specific scenarios in mind, don't hesitate to request them; we're here to assist you. And if you're interested in joining forces to provide even more value to your clients, consider becoming a partner with us. Together, we can empower individuals and families to achieve their dreams of homeownership in these thriving and budget-friendly cities.
Thank you, you're successfully subscribed!
Thank you, you're successfully subscribed!