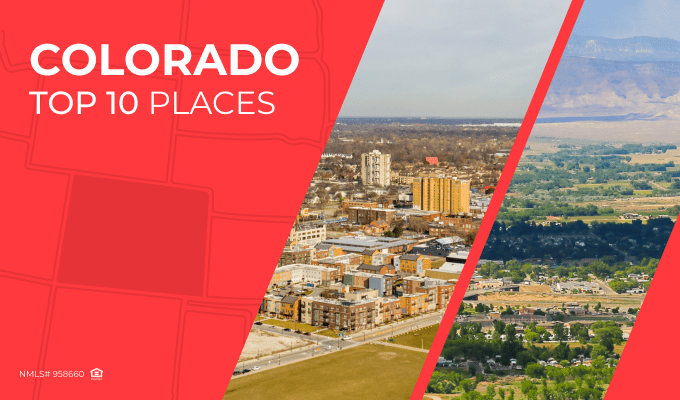 Stunning mountain ranges, wide open spaces, and vast hiking trails all contribute to a healthy lifestyle in Colorado that revolves around outdoor activities. Hiking, camping, mountain biking, and skiing are just a few of the activities that residents and visitors wholeheartedly embrace.
Looking for a suitable loan program?
Choose among 20+ programs and get a detailed loan calculation
Loan Calculator
Programs
However, if you have clients thinking of moving to Colorado and they're on a budget, they might find housing and other costs of living more expensive than they imagined. To find a city or town that perfectly suits their circumstances, check out our 10 Most Affordable Places to Live in the Centennial State.
10. Firestone
Firestone is a small town but with much to offer. It has spectacular views of the Rocky Mountains, an amazing system of parks and trails, and it consistently ranks as one of the safest communities in Colorado. Add in some local charm and an affordable cost of living, and you can understand why Firestone ranks as one the best places to live in the entire state.
9. Lamar
Located on the southeastern side of the state, closer to the Kansas border, Lamar possesses a rural charm and is steeped in history. The community is proud of its restored 1907 train depot and train engine, and a 100-year-old windmill. It is also known as one of the best birding spots in the state. In addition, Lamar ranks as one of the cheapest places to live in Colorado.
8. Milliken
Milliken is a small agricultural town located about 50 miles from Denver and 30 miles from Boulder, providing easy access to larger urban areas but still with mountains, rivers and lakes nearby. Milliken was originally built as a trading post in the 1860s along the Northwestern rail line. Today, it is considered an undicovered gem with affordable housing and a distinctive historical charm.
7. Dove Valley
For those residents who prefer to live closer to a major metropolitan area, Dove Valley is a a well-kept secret. A southeast suburb of Denver, it is the most affordable town in the area. It has also been consistently voted as one of the Best Places to Raise a Family in Colorado. In addition, there are boundless opportunities for camping, fishing and boating activities nearby.
6. Fort Lupton
Located just 40 minutes northeast of Denver, Fort Lupton has a rich history. A trading post was originally built on this site in 1838 and some of the original adobe bricks still survive to this day. The town sits along the Platte River with spectacular views of the Rocky Mountains. With its small-town charm and affordable cost of living, Fort Lupton is one of the cheapest places to live in Colorado.
5. Fruita
Fruita is located on the western edge of the state, near the Utah border. Originally known as a fruit-producing region (Colorado's famous Palisade Peaches are grown in this area), Fruita is better known today for its outdoor recreational activities, such as mountain biking, camping, white-water rafting, and skiing. Fruita's low crime rate and affordable housing make it a family-friendly community.
4. Fountain
Fountain was named an "All American City" by the National Civic League in 2002, but this cowboy town has a culture all its own. It's not uncommon for rodeos to be held in its city park or for fishing events to occur along the Arkansas River that runs through town. Besides being budget-friendly, Fountain is best known for being the home of the Pikes Peak International Raceway.
3. Brush!
Yes, Brush! has an exclamation mark after its name. In 1978, the city council added it to its name to signify the town's "can-do attitude." Perhaps that attitude was formed during the town's history when it was part of the Texas/Montana Cattle Drive trail. Though a small agricultural community today, Brush! boasts several reservoirs, waterways, wildlife and numerous forms of outdoor recreation.
2. Colorado Springs
Though Colorado Springs is the second largest city in the state, it is still small enough to be affordable and to offer a family-friendly environment. In fact, it has been named as one of the Best Cities to Live in the U.S. Colorado Springs is located at the base of the majestic Pike's Peak and offers stunning mountain views. It is also known for its wide-ranging, multicultural diversity.
Struggling with a loan scenario? Get a solution in 30 minutes!
Fill out the short form and get your personal offer
Submit Scenario
1. Aurora
At the top of our list is Aurora, the most affordable city in Colorado. Just 20 minutes from downtown Denver, Aurora is thriving. A new Colorado film school has been established there and a large major film studio is being built nearby. Aurora is replete with all kinds of shops and restaurants, and it also has a large Korean community, featuring a traditional Korean Bath House. If affordability is your prime motivation, then Aurora in Colorado may be the best place for you.
As a mortgage broker, your clients rely on your expertise to find them the best deals in these top 10 affordable cities. Our Quick Pricer tool can be an invaluable asset in your quest to secure the most advantageous mortgage rates. Be sure to explore our Programs section for additional resources tailored to your needs. If you have specific scenarios in mind, don't hesitate to request them; we're here to assist you. And if you're interested in joining forces to provide even more value to your clients, consider becoming a partner with us. Together, we can empower individuals and families to achieve their dreams of homeownership in these thriving and budget-friendly cities.
Thank you, you're successfully subscribed!
Thank you, you're successfully subscribed!