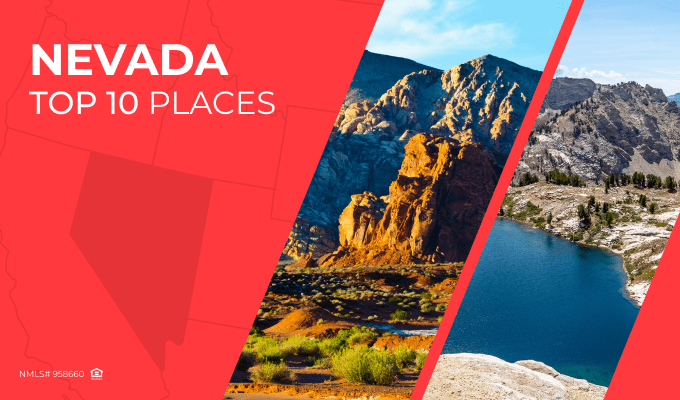 For most people, Las Vegas is synonymous with Nevada but there is much more to the Silver State than glitzy casinos and endless buffets. There are must-see destinations like Hoover Dam, Red Rock Canyon and Lake Tahoe. There are goldmines, mountain trails, biking, fishing and skiing. There are also many unique communities offering distinctive restaurants, shops and entertainment venues.
Struggling with a loan scenario? Get a solution in 30 minutes!
Fill out the short form and get a call from our AE
Submit Scenario
Fortunately, Nevada has a relatively low cost of living, especially if you're living in the right places. Check out our list below of the 10 Most Affordable Places to Live in Nevada to help inform your choices.
10. Fallon
Located about an hour east of Reno, Fallon is the county seat of Churchill County and is located in the Lahontan Valley. The area primarily consists of farmland where Fallon's famous "Heart O' Gold" cantaloupes are grown. But the town offers much more than that including rugged mountains, high desert, and many lakes, reservoirs and hunting areas. Fallon's home price to income ratio is 4.1%, making it an affordable small town to consider.
9. Mesquite
Mesquite is the fastest-growing city in Nevada, located just 80 miles northeast of Las Vegas. And like Las Vegas, it has its share of gambling and nightlife but it's much more than that. There are hiking, biking and ATV trails and numerous area golf courses. Even camel rides! Homes in Mesquite sell for a median price of $257,100, and the median household income is $59,206, meaning a quality affordable lifestyle can be had here.
8. Fernley
Steeped in history and western lore, Fernley is located 30 minutes east of Reno. It offers a friendly, small-town lifestyle with many new housing developments, churches and civic groups, along with recreational opportunities such as fishing, hunting, boating, camping, and hiking. Fernley also offers numerous golf courses, parks, and athletic fields. Fernley's median rents are well below state average, as are its median home prices, making it an affordable choice in Nevada.
7. Yerington
Yerington is located 90 minutes southeast of Reno in the heart of Lyon County. It exudes a small-town charm and is a perfect basecamp for outdoor recreational pursuits, including camping, fishing, wildlife watching, and ATV trail riding. Yerington has the second least expensive homes for sale in the state, with a median price of $144,700, and its home price to income ratio is 4.3%, affording residents the opportunity to enjoy all of Yarington's charms.
6. Elko
With a population of 20,396, Elko is the largest city on our list. It is located 20 miles from Lamoille Canyonand the Ruby Mountains (dubbed the Swiss Alps of Nevada), so there is year round access to recreation including hiking, skiing, hunting, and dozens of alpine lakes. Elko residents have a median income of $77,659 and their home price to income ratio is just 3.0%, which is why families love to live here.
5. Winnemucca
Located in the upper northwest part of the state, Winnemucca enjoys many popular attractions including the Humboldt Museum, Winnemucca Sand Dunes, and the Safe Haven Wildlife Sanctuary. Homes in Winnemucca are a bit pricier than in other parts of Nevada, with a median price tag of $238,500. However, local residents also enjoy one of the highest median incomes at $67,574, so meeting their mortgage payments isn't typically a problem.
4. West Wendover
Folks in West Wendover claim to be the friendliest in the state but many people believe it's because of Wendover Will, the 63-foot tall neon cowboy who famously greets people as they enter the city. But West Wendover has more to offer than a very tall cowboy! With a median home price of just $182,800 and median rent of of $654, West Wendover is a very family-friendly place to live.
3. Ely
Located in east-central Nevada, Ely is a long way from any big city. But that doesn't mean there is a shortage of things to do. Ely boasts an historic state park, a renaissance village, a gambling hall, and a railway museum. Plus, the median rent is only $788 and the median income is a healthy $60,927, making Ely a very affordable location to consider.
2. Lovelock
"Lovelock is for Lovers" so it's not surprising that the town was recently ranked as one of the best cities in Nevada for singles. But it also has great schools, churches and civic organizations, and a friendly small-town charm. Plus, Lovelock has the cheapest home prices in Nevada and a home price to income ratio of 2.7%. When it's time for all those singles to become couples, they know they'll be able to afford a home.
1. Carlin
Known as the place "where the train stops and the Gold Rush begins," Carlin is our most affordable place to live in Nevada. There's also plenty to do in Carlin including ghost towns and opportunities for hunting, fishing and swimming. Carlin has some of the cheapest housing prices in the state at $153,200, and its residents enjoy a median income of $70,000, allowing them to easily afford a mortgage. This explains why Carlin is at the top of our list.
As a mortgage broker, your clients rely on your expertise to find them the best deals in these top 10 affordable cities. Our Quick Pricer tool can be an invaluable asset in your quest to secure the most advantageous mortgage rates. Be sure to explore our Programs section for additional resources tailored to your needs. If you have specific scenarios in mind, don't hesitate to request them; we're here to assist you. And if you're interested in joining forces to provide even more value to your clients, consider becoming a partner with us. Together, we can empower individuals and families to achieve their dreams of homeownership in these thriving and budget-friendly cities.
Thank you, you're successfully subscribed!
Thank you, you're successfully subscribed!