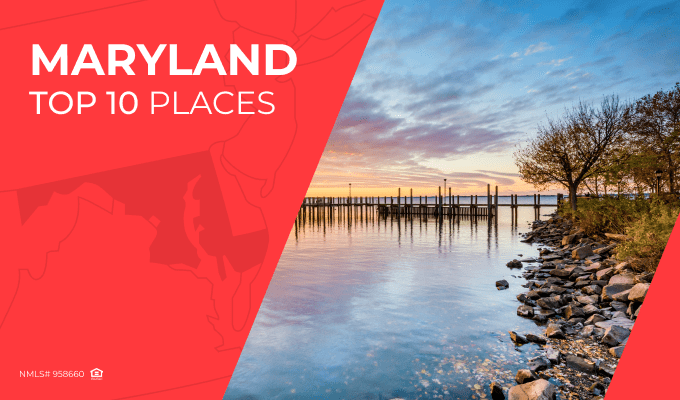 Maryland is a great place to live because of its proximity to the ocean, Baltimore and Washington D.C. But let's not forget that the Old Line State also has some of the best seafood in all of New England. Who hasn't drooled all over their bib while devouring mounds of steamed blue crab?
Unfortunately, Maryland has a reputation for being a bit pricey. Its cost of living is 13% higher than the national average. However, we've scoured the state to find the 10 Most Affordable Places to Live in Maryland and you can check out our list below.
10. Easton
Ranked as "the 8th Best Small Town in America," Easton is an idyllic arts and cultural center. It provides easy access to Baltimore, Annapolis and Washington, and it also offers its residents quality medical facilities, fantastic dining, and shopping on any budget. Easton has a home price to income ratio of 4.49% and the average median household income is $61,651.
9. Greenbelt
Located just 30 minutes from Washington D.C., Greenbelt offers a a variety of attractions such as the Greenbelt National Park, the Greenbelt Museum, and the Beltway Plaza Mall. It also has a thriving restaurant scene and numerous shopping opportunities. The median household income is $71,734 and the home price to income ratio is just 3.17%. Greenbelt's property taxes are also relatively low at $2,933.
8. Havre de Grace
Nestled where the Chesapeake Bay meets the Susquehanna River, Havre de Grace is a charming coastal town. It is known for its waterfront views, historic downtown, scenic trails, delightful parks, and distinguished performing arts facilities. The cost of living in Havre de Grace is lower than the Maryland statewide average, making it an attractive and affordable place to live.
7. Bel Air
Bel Air is a historic town that offers many shopping, entertainment and recreational opportunities. It also has a thriving restaurant and craft beer scene. Bel Air possesses excellent schools, safe neighborhoods, and low property taxes, making it very family friendly. With a home price to income ratio of 3.45% and a median household income of $71,122, Bel Air deserves to be on your list.
6. Elkton
Situated at the northern headwaters of Chesapeake Bay, Elkton has an illustrious history. The town was founded in 1787 and many of the its beautiful colonial buildings are still standing. In addition to its historical charms, Elkton is known for Milburn Orchards, Meadow Park, and the Maryland Beer Company. With low property taxes and a home price to income ratio of 3.46%, Elkton is an affordable option.
5. Westminster
Westminster is a prosperous city in northern Maryland and it has a rich history. Founded in 1867, Westminster is home to McDaniel College. Other notable attractions include the Union Mills Homestead, the Carroll County Farm Museum, and the state-of-the-art Hashawaha Environmental Center.. With a median household income of $60,518 and an attractive home price to income ratio, Westminster is a desirable community to consider.
4. Salisbury
Recently ranked as the #1 Best College Town for Families and one of the fastest growing cities in America with affordable homes, Salisbury is a big city with a small-town feel. Residents enjoy biking, kayaking and canoeing at Pemberton Historical Park, and its Downtown Arts and Entertainment District is filled with galleries, restaurants and shops. Low property taxes and an abundance of affordable housing make Salisbury a great place to be.
3. Aberdeen
Located just 30 miles northeast of Baltimore, Aberdeen is a small town with a strongly-knit community. Locals enjoy plenty of options for dining, entertainment and shopping but they are also close to Baltimore's big-city amenities. The median home value in Aberdeen is $192,400 and its median household income is $66,481, making it an attractive and affordable choice.
2. Baltimore
Known as "Charm City", Baltimore is the largest city in Maryland. It has beautiful waterfront views, diverse neighborhoods, friendly communities, and an outstanding restaurant scene. Many locals spend their days cruising around the Inner Harbor or supporting their professional football and baseball teams. Housing in Baltimore is relatively inexpensive. The median sale price for homes is $209,000 and the median household income is $50,379, making Baltimore an affordable big city.
1. Hagerstown
Topping our list of affordable places in Maryland is Hagerstown. Known as "Hub City", Hagerstown serves as a gateway to the Baltimore and the Washington, D.C. areas, as well as being the "hub" of government and commerce for the tri-state area. Locals appreciate its diverse culture and abundant recreational opportunities. The median household income is $40,800 and the home price to income ratio is 3.82%, making Hagerstown a very affordable place to call home.
As a mortgage broker, your clients rely on your expertise to find them the best deals in these top 10 affordable cities. Our Quick Pricer tool can be an invaluable asset in your quest to secure the most advantageous mortgage rates. Be sure to explore our Programs section for additional resources tailored to your needs. If you have specific scenarios in mind, don't hesitate to request them; we're here to assist you. And if you're interested in joining forces to provide even more value to your clients, consider becoming a partner with us. Together, we can empower individuals and families to achieve their dreams of homeownership in these thriving and budget-friendly cities.
Thank you, you're successfully subscribed!
Thank you, you're successfully subscribed!