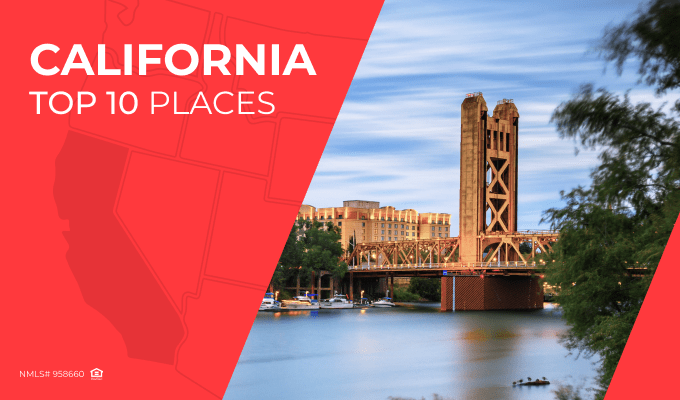 Americans have been California Dreamin' for generations and it's no surprise why. Its mild temperate climate, scenic mountains and coastlines, and relaxed, casual lifestyle all combine to make California a very desirable place to live.
Unfortunately, it's also an expensive place to live. So if your borrowers' hearts are set on residing there and they're on a tight budget, check out the 10 Most Affordable Places to Live in the beautiful Golden State.
Looking for a suitable loan program?
Choose among 20+ programs and get a detailed loan calculation
Loan Calculator
Programs
10. Oxnard
Oxnard is a lovely oceanside community in Ventura County, just over an hour north of Los Angeles. It is well-known for its fertile agricultural bounty and it exudes a tranquil peace and calm. It also possesses a small-town charm, which is only matched by its affordability, especially compared to other beach towns in the area.
9. San Pablo
San Pablo is a charming enclave located in West Contra Costa County, just minutes away from Berkeley, Oakland, and San Francisco. Historically, San Pablo is one of the oldest Spanish settlements in the region, and today, it is a thriving residential and business community. Its diverse population, access to the Bay Area, and comparative affordability make the "City of New Directions" a welcome place to live.
8. Vacaville
Nestled in the rolling hills just west of Sacramento Valley – an hour from San Francisco, and within minutes of the Napa and Sonoma wine countries – Vacaville is a vibrant little community with small-town charm. Blessed with natural beauty, Vacaville is a thriving destination for outdoor recreation and upscale dining and shopping. It is also family-friendly and uniquely affordable.
7. Murrieta
Murrieta is a city in southwestern Riverside County and it's one of the fastest-growing cities in the state. This Southern California gem possesses picturesque landscapes, an expanding wine and beer scene, and bountiful outdoor recreation. It is also safe and affordable, which appeals to its value-minded residents.
6. Redlands
Located in the heart of San Bernardino County's Inland Empire, Redlands is a low-key, suburban area but with vibrant charm. It boasts a weekly farmers market, an outdoor amphitheater for entertainment, and easy access to beautiful mountains and natural parks nearby. It's also less than a two hour drive to the heart of Los Angeles.
5. Vallejo
Located just 30 miles north of San Francisco, Vallejo is a beautiful waterfront city and a prime location for living, working, and playing. It is known for its tourist destinations, including Six Flags Discovery Kingdom and the 1911 Empress Theatre. In addition, the cost of living in Vallejo is much cheaper than other Bay Area cities, making it a desirable place to raise a family.
4. Sacramento
Sacramento is the capital of California and it's also the cheapest big city in the state. It has a cost of living 22% below the California average and 88% below nearby San Francisco. In addition, Sacramento has its own authentic local culture and offers an impressive quality of life, making it a great place for families looking to save money.
3. Clovis
Located in the heart of the San Joaquin Valley, Clovis is a quaint, medium-sized city that lies just outside Fresno. Known as the Gateway to the Sierras, Clovis possesses abundant natural beauty and Death Valley and Yosemite are located nearby. Families and working professionals appreciate Clovis for its affordability and quiet pace of life.
2. Stockton
Stockton is also located in the San Joaquin Valley and it is primarily a suburban city with a welcoming presence. It is also one of the least expensive cities in all of California. It is known for its historical museums, hiking trails, regional parks, and the local zoo. Stockton is favored by young adults looking for economic opportunities and saving money.
1. Eureka
Often hailed as one of the best places to live in all of California, Eureka is also the cheapest place to live in the state. A historic port city in Northern California, Eureka is a quaint old town full of Victorian mansions and other historic attractions. It also possesses a temperate climate and a small-town charm. For those looking to live affordably in California, Eureka is at the top of the list.
As a mortgage broker, your clients rely on your expertise to find them the best deals in these top 10 affordable cities. Our Quick Pricer tool can be an invaluable asset in your quest to secure the most advantageous mortgage rates. Be sure to explore our Programs section for additional resources tailored to your needs. If you have specific scenarios in mind, don't hesitate to request them; we're here to assist you. And if you're interested in joining forces to provide even more value to your clients, consider becoming a partner with us. Together, we can empower individuals and families to achieve their dreams of homeownership in these thriving and budget-friendly cities.
Thank you, you're successfully subscribed!
Thank you, you're successfully subscribed!