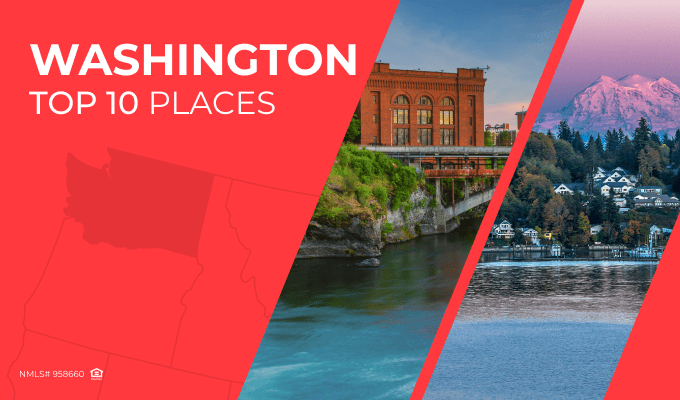 When it comes to finding an affordable place to live in Washington State, there's good news for budget-conscious individuals and families. From stunning natural beauty to a thriving job market, Washington offers a variety of cities that combine affordability with an excellent quality of life. In this blog post, we will highlight the top 10 affordable cities in Washington, where you can stretch your dollars without compromising on amenities or opportunities.
Looking for a suitable loan program?
Choose among 20+ programs and get a detailed loan calculation
Loan Calculator
Programs
10. Spokane
Located in eastern Washington, Spokane tops our list of affordable cities. It boasts a low cost of living, affordable housing options, and abundant recreational activities. With a vibrant arts scene, excellent healthcare facilities, and a strong sense of community, Spokane offers a high quality of life without breaking the bank.
9. Yakima
Nestled in the heart of the Yakima Valley, this city is renowned for its agricultural industry and picturesque landscapes. Yakima offers affordable housing, lower-than-average utility costs, and a diverse cultural scene. Residents can enjoy outdoor activities like hiking, fishing, and skiing, making it an ideal place for nature enthusiasts.
8. Bellingham
Situated near the Canadian border, Bellingham offers a unique blend of natural beauty and urban amenities. Despite its proximity to Seattle, Bellingham maintains a lower cost of living. The city is home to Western Washington University and provides residents with access to stunning waterfront parks, local breweries, and a thriving arts community.
7. Richland
Located in the sunny Tri-Cities area, Richland is known for its affordability and robust job market, particularly in the fields of healthcare, education, and engineering. With its proximity to the Columbia River and numerous outdoor recreational opportunities, Richland offers an excellent quality of life for budget-conscious individuals.
6. Olympia
As the capital city of Washington, Olympia surprises many with its affordability. The city offers a lower cost of living compared to Seattle or Portland, combined with a thriving arts scene, diverse dining options, and ample outdoor recreation opportunities. Residents can enjoy exploring the Capitol State Forest and Puget Sound while still maintaining a reasonable budget.
5. Wenatchee
Nestled in the Cascade Mountains, Wenatchee is known for its stunning scenery, mild climate, and affordable cost of living. The city offers a variety of recreational activities such as hiking, skiing, and boating. With a growing job market and a charming downtown area, Wenatchee provides a balance between affordability and a high quality of life.
4. Walla Walla
Famous for its vineyards and wine production, Walla Walla offers a unique blend of affordability and small-town charm. The city features a thriving arts community, historic architecture, and a variety of dining options. Affordable housing options, lower utility costs, and a slower pace of life make Walla Walla an attractive choice for those seeking an affordable place to call home.
3. Mount Vernon
Situated in the Skagit Valley, Mount Vernon offers a picturesque setting, affordable housing, and a strong sense of community. The city hosts numerous events and festivals throughout the year, celebrating its agricultural heritage and promoting local businesses. With easy access to the San Juan Islands and North Cascades National Park, outdoor enthusiasts will find plenty to explore.
2. Ellensburg
Home to Central Washington University, Ellensburg combines affordable living with a vibrant college town atmosphere. The city offers a range of recreational activities, including hiking, fishing, and rock climbing. With its charming downtown area, affordable housing options, and a lower cost of living compared to larger cities, Ellensburg provides an excellent opportunity for those seeking affordability and a youthful energy.
1. Port Angeles
Situated on the Olympic Peninsula, Port Angeles is known for its stunning natural beauty, including the nearby Olympic National Park. Port Angeles offers affordable housing options, lower property taxes, and a slower-paced lifestyle. Residents can enjoy breathtaking views of the Strait of Juan de Fuca, explore the diverse ecosystems of Olympic National Park, and indulge in outdoor activities like hiking, camping, and whale watching.
Conclusion
Washington State is not only renowned for its natural beauty and thriving cities but also offers a range of affordable options for individuals and families looking to settle down. From Spokane to Port Angeles, each city on our list provides a combination of affordability, amenities, and opportunities for a high quality of life.
Whether you prefer the urban lifestyle with cultural attractions or the tranquility of small-town charm, these affordable cities in Washington offer something for everyone. Take advantage of lower living costs, access to nature, and robust job markets, making your dream of a comfortable and affordable life a reality.
Remember to thoroughly research each city, considering factors such as housing costs, job opportunities, community amenities, and lifestyle preferences, to find the perfect fit for your needs and budget. Happy exploring and best of luck in finding your ideal affordable city in Washington State!
As a mortgage broker, your clients rely on your expertise to find them the best deals in these top 10 affordable cities. Our Quick Pricer tool can be an invaluable asset in your quest to secure the most advantageous mortgage rates. Be sure to explore our Programs section for additional resources tailored to your needs. If you have specific scenarios in mind, don't hesitate to request them; we're here to assist you. And if you're interested in joining forces to provide even more value to your clients, consider becoming a partner with us. Together, we can empower individuals and families to achieve their dreams of homeownership in these thriving and budget-friendly cities.
Thank you, you're successfully subscribed!
Thank you, you're successfully subscribed!