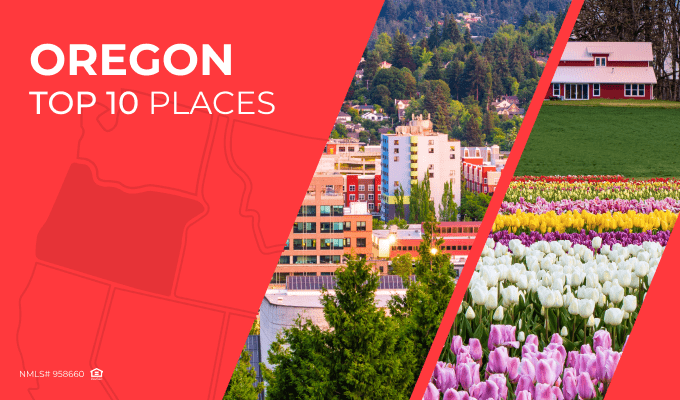 Oregon is an outdoor lover's paradise. It is known for its diverse landscapes, lush forests, scenic bikeways, and the towering Mount Hood and spectacular Crater Lake. It is also rife with vineyards, museums, and a dining scene second to none.
Looking for a suitable loan program?
Choose among 20+ programs and get a detailed loan calculation
Loan Calculator
Programs
If you have your heart set on moving to Oregon but need to watch your budget, check out our 10 Most Affordable Places to Live in the Beaver State.
10. Salem
Salem is the capital of Oregon and located about an hour south of Portland. It is known for its abundance of gardens, both public and private, as well as many heritage museums. In addition, Salem has miles of hiking and biking trails, and waterfalls and caves to explore. Best of all is its affordable cost of living.
9. Damascus
Damascus is located in Clackamus County, just 30 minutes southeast of Portland. It is a small community that cherishes its close-knit associations and sense of civic pride. Residents enjoy hiking in the woods, fishing in rivers and lakes, and exploring farmers' markets. They also enjoy an affordable lifestyle.
8. Pendleton
Pendleton is the county seatof Umatilla County and is located about 200 miles east of Portland. The city's motto is "The Real West" and it prides itself on its ranching and farming past. The community is also proud of its famous Pendleton Woolen Mills, which first made blankets for local Native Americans. Pendletonians also appreciate their affordable housing and cost of living.
7. Lebanon
Lebanon is a city in Linn County, about 30 miles south of Salem. Its city motto is "It's easier from here," which might be a nod to its budget-friendly status. In addition to its rich history, Lebanon is host to an annual Strawberry Festival which boasts the world's largest strawberry shortcake.
6. Coos Bay
Coos Bay is the largest city on the Oregon coast and besides being an affordable place to live, it is also a food lover's dream. The city hosts numerous festivals throughout the year, most of them food-centered. Plus, there are countless recreational activities in Coos Bay, including fishing, hiking, camping, boating, and golf.
5. Eugene
Eugene is located at the southern end of the Willamette Valley, near the confluence of the McKenzieand Willametterivers. Eugene's official slogan is "A Great City for the Arts and Outdoors," so it's no wonder there is an abundance of outdoor recreational activity, including biking, rafting, kayaking and camping.  The quality of life is high in Eugene and so is its affordability.
4. Woodburn
Woodburn is located in Marion County in the northern end of the Willamette Valley between Portland and Salem. It is a family-friendly community, not surprising given its affordable housing and quality of life. Each year Woodburn hosts a month-long tulip festival, spread out over 40 acres with amazing views of mountains and vineyards in the distance.
3. Keizer
Nestled in the center of the Willamette Valley, Keizer offers a low cost of living and an abundance of outdoor recreational activities. However, the city is best known as the "Iris Capital of the World."  Every year in May, Keizer hosts its Iris Festival that includes a variety of concerts, a carnival, and a parade. Keizer also supports the largest volunteer little league organization in Oregon.
2. Dallas
Yes, there is also a Dallas in Oregon and it's Number 2 on our list of Affordable Places to Live. Located in Polk County, just about 15 miles west of Salem, Dallas offers its residents many attractions, including the Rickreall Creek Trail System, the Dallas Aquatic Center, and a beautiful city park system. It is also well-known for its botanical gardens and the Peavy Arboretum.
1. Springfield
At the top of our list is Springfield, the most affordable city in Oregon. Located in Lane County in the southern Willamette Valley, Springfield offers an abundance of recreational activities, as well as a thriving restaurant and craft beer scene. But it's perhaps best known as the hometown inspiration for the acclaimed TV series, "The Simpsons." Springfield residents proudly claim the title of a "typical American town."
As a mortgage broker, your clients rely on your expertise to find them the best deals in these top 10 affordable cities. Our Quick Pricer tool can be an invaluable asset in your quest to secure the most advantageous mortgage rates. Be sure to explore our Programs section for additional resources tailored to your needs. If you have specific scenarios in mind, don't hesitate to request them; we're here to assist you. And if you're interested in joining forces to provide even more value to your clients, consider becoming a partner with us. Together, we can empower individuals and families to achieve their dreams of homeownership in these thriving and budget-friendly cities.
Thank you, you're successfully subscribed!
Thank you, you're successfully subscribed!